London's Hammersmith & Fulham Council has approved a £1bn redevelopment of the historic Olympia exhibition centre in Kensington, put forward by the venue's new joint owners, equity investor Yoo Capital Management, and Deutsche Finance.
Plans for the 133-year-old facility, drawn up by London architects Heatherwick Studio and SPPARC, include renewing the exhibition hall and adding 51,000 sq m of office space for "the creative industries in art, music and entertainment".
It will add a "cultural hub" consisting of a four-screen arthouse cinema, a 1,000-seat performing arts space, a 1,500-seat theatre and a jazz club.
There will also be a public "sky garden" containing cafes and bars.
The plans for the 14-acre site were first announced in September 2017, after Yoo Capital Management, which specialises in redeveloping underperforming properties, bought Olympia with Deutsch Finance for £296m.
In July 2018 the scheme's budget was put at £700m. 
Olympia London said the project will create more than 3,000 construction jobs over the next five years, and 5,400 permanent jobs for the borough. 
Trevor Morriss, principal of SPPARC, commented: "Each building and public space we have carefully designed has been inspired by the rich history that surrounds the scheme and will position Olympia as a thriving hub for creativity and innovation."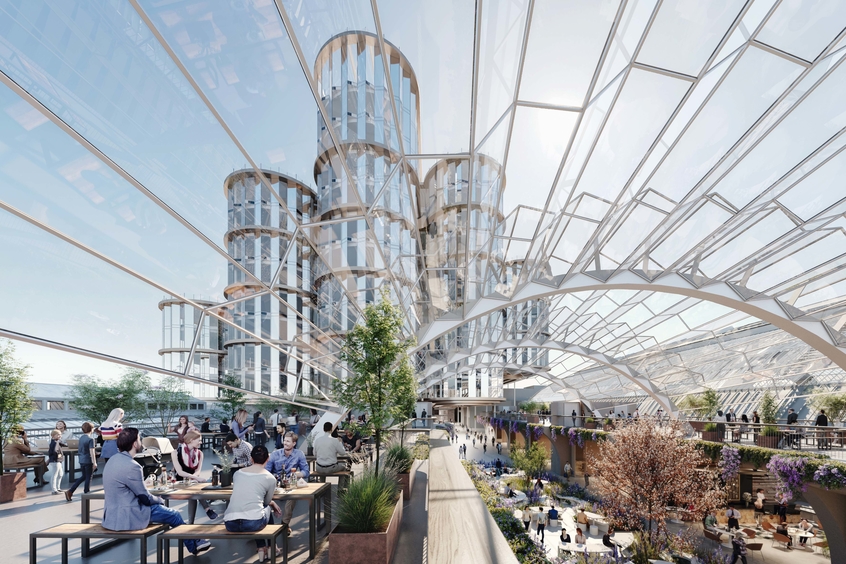 John Hitchcox, the chairman of YOO, said: "Not only is this great news for London – it's also an example of a British project with European investment creating jobs and opportunities in spite of the current economic and political climate.
"We are proud to announce this plan and press 'go' on a £1bn project that will transform Olympia London into a global force in arts, entertainment, exhibitions and events."
Images: The planned redesign of London Olympia (Heatherwick Studios)