The 100-plus-year-old dream to build a continental railway from central North America to the ports of Alaska for quicker shipping of minerals to Asia took a step closer last week.
On 27 June two organisations pushing the scheme, the Alaska Railroad Corporation (ARRC) and the Alaska to Alberta Railway Development Corporation (A2A), agreed to cooperate on the plan to build a US$13bn, 2,400km railway between northern Alberta to join the inland terminus of Alaska's existing railway at the city of North Pole. 
The railway, running through the Canadian provinces of Alberta and British Columbia, and the territory of Yukon, would provide a faster link for mining interests to Alaska's Southcentral ports, including Anchorage and Valdez, which the railway's proponents say are four days closer in shipping time to Asia than any other port on the North American coast.
Their hopes for the project are boosted by a 2016 study by the Canadian infrastructure think tank, the Van Horne Institute, which said a railway between Alaskan ports and the bitumen producing city of Fort McMurray, Alberta could unlock C$659bn worth of untapped minerals along the route.
This, said the institute, would amply compensate investors for the estimated C$28bn-C$34bn (US$21bn-US$25bn) price tag.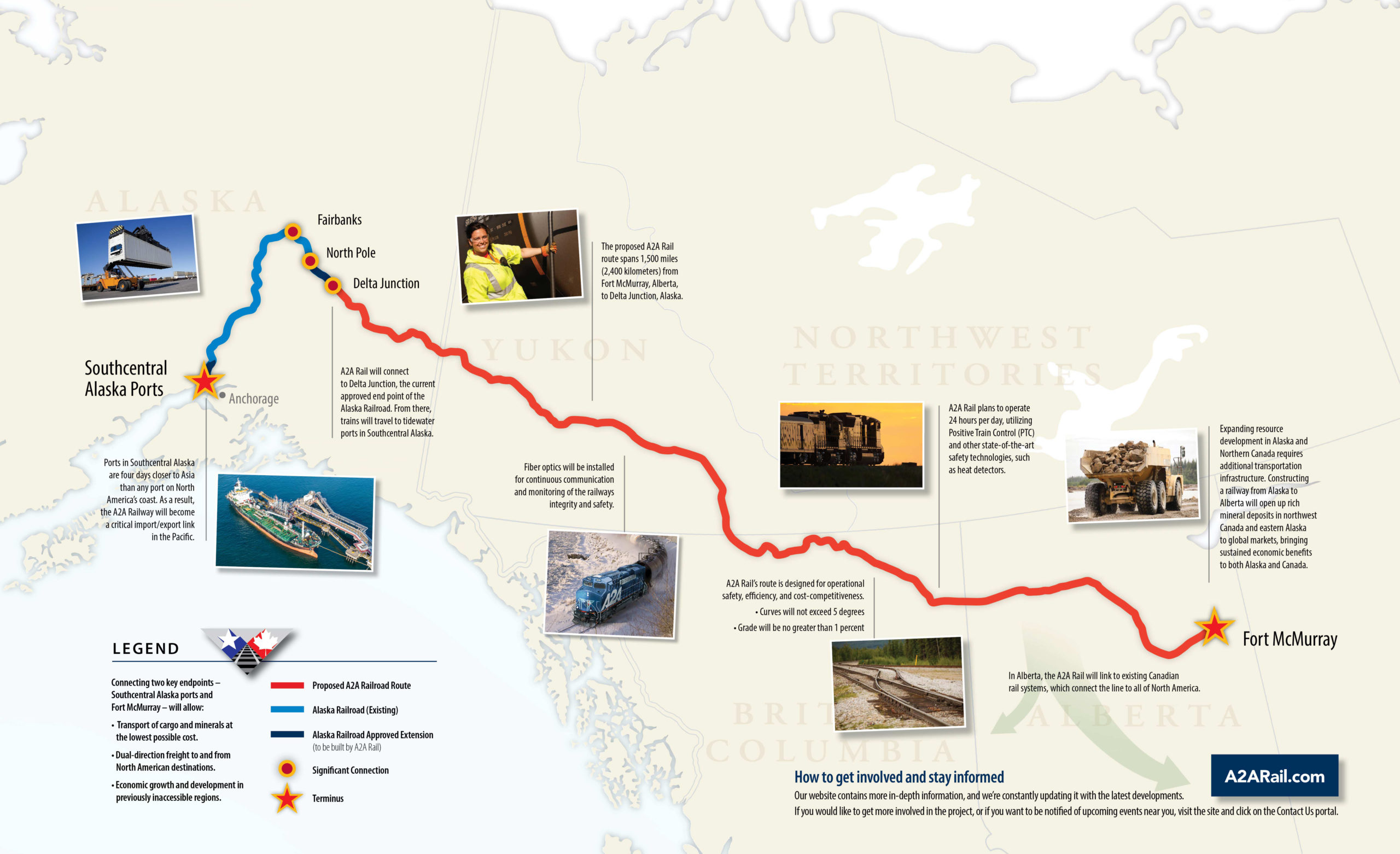 An approximate route for the proposed railway (A2A)
Following the agreement last week, the two companies will now make an application to the Alaska Department of Natural Resources for a right-of-way for the link, and will develop a plan for specifying the route.
Environmental impact assessments will have to be carried out, as will negotiations with 25 First Nations groups whose lands the railway would cross.
Sean McCoshen, the chief executive of A2A, which was set up in 2015 to build the line, said: "We are pleased to reach this milestone with the Alaska Railroad. It will help assure global investors that obtaining a right-of-way in Alaska is achievable, and sets up major cooperation in permitting, operations, and marketing with the Alaska Railroad. We expect this project to generate significant economic activity in Alaska and Canada."
ARRC president Bill O'Leary added: "A rail connection between Alaska and Canada and the rest of the United States is a project that has been talked and dreamed about for close to a century. Completing that connection has amazing potential for Alaska and this agreement between the Alaska Railroad and A2A Rail is an important first step to get the project under way."
The first charter to build a line to Alaska was awarded to the Edmonton & District Railway Company in 1898.
Top image: A stretch of Alaska's existing railway at Beluga Point, Anchorage (Diego Delso/CC BY-SA 4.0)
Further reading