UK architect Heatherwick Studio has designed a $150m public artwork for the Hudson Yards development in Manhattan, New York.
The 600 tonne structure, to be known officially as "Vessel", takes the form of a 16-storey staircase that the architect describes "a huge climbing frame". It will be 15 storeys tall and will have 154 interconnecting flights with 2,500 climbable steps and 80 landings.
It has the form of an inverted cone, widening from 50ft at its base to 150ft at the top. As well as its stairs, it will contain a mile of vertical pathways covered in a copper-coloured steel skin.
Vessel will be the centerpiece of Related Companies and Oxford Properties' Hudson Yards project, a $20bn regeneration programme that occupies some 11ha along the Hudson river. It is the largest development in New York since the Rockefeller Centre was built in the 1930s.
Thomas Heatherwick, founder of Heatherwick Studio, commented: "We had to think of what could act as the role of a landmarker. Something that could help give character and particularity to the space."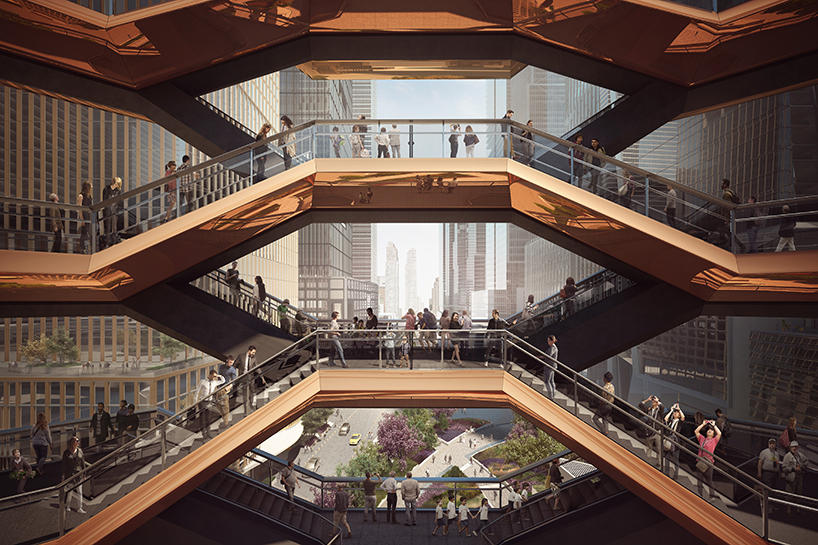 He told The Telegraph: "When I was a student, I fell in love with an old discarded flight of wooden stairs outside a local building site. It caught my imagination and I loved that it was part furniture and part infrastructure. You could climb up stairs, jump on them, dance on them, get tired on them and then plonk yourself down on them."
The project cost has doubled to $150m from the original estimate of $75m.
The structure is currently being fabricated in Monfalcone, Italy, and will be assembled on site next year, completion is scheduled for 2018.
Images via Heatherwick Studio