Anglo-Iraqi architect AMBS has unveiled a design for what would be the tallest building in the world in the city of Basra.
If built, the 230-storey, 1,152m tall "Bride Tower" would be located in Basra and would be made up of four buildings joined together. These would contain a "vertical city" consisting of a million and a half square metres of offices, hotels, shops and apartments, as well as parks and gardens.
A facade described as a "veil" would cover the exterior of the structure and provide shade to surrounding buildings; it would be topped with a 188m-high antenna and would even have its own railway.
The tower aims to generate as much energy as it uses, partly by means of a 670,000 square metre canopy covered with solar panels.
AMBS, which has offices in Baghdad and London, said: "Super-tall towers are perceived as an object in the distance. An alien planted in the city, disconnected from the urban scale at ground level.
"The Bride, on the other hand, will be conceived as a city itself both vertically but also horizontally from the ground. It will be enjoyed by thousands of people in endless ways, within it, on it or under it. From walking in the vast shaded parks and promenades at ground level, to having lunch or shopping in a sky-square hundreds of metres above sea level."

The Iraqi government is working on a masterplan for Basra and the Bride is intended to be its centerpiece. However there is no fixed location for the building, and although Basra is relatively peaceful and prosperous, neither a construction schedule nor a price has been suggested.
The tallest building under construction is the 1km-high Kingdom Tower in Jeddah, Saudi Arabia. The tallest building completed is the 830m Burj Khalifa in Dubai.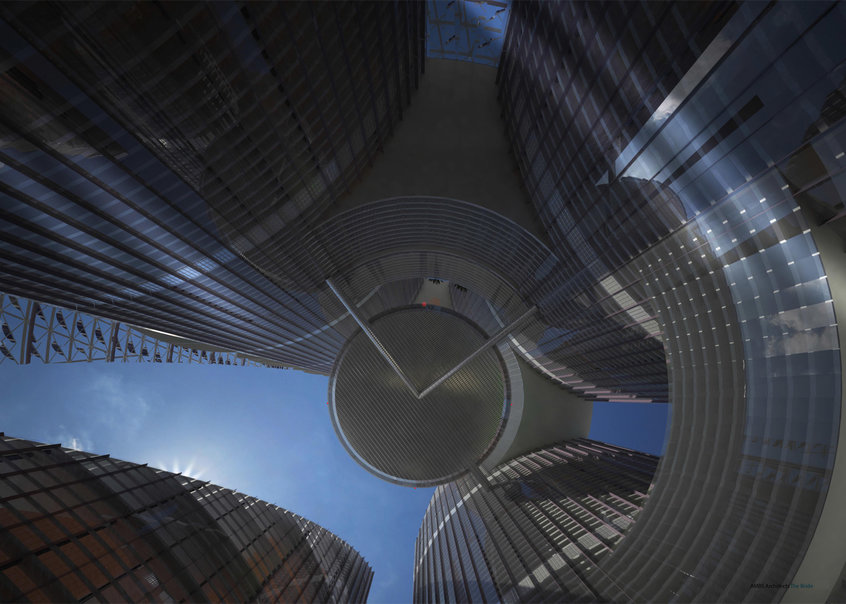 Images via AMBS architects