Ho Chi Minh (HCM) City authorities have asked the government for an $800m cash injection to sustain a project to build the city's second, error-plagued metro line as costs have nearly doubled.
HCM City's Line 2 will run 11km across the city, mostly underground. Work began in 2010 and was scheduled to end in 2020 at a cost of a $1.4bn, but it is now expected to end in 2024 with a budget of $2.2bn and rising.
The rise in costs has reportedly led to slow payments to contractors and the need to pay interest on loans.
They don't know how to do it. They have to build the institutional framework, and that's why they are hesitating– Clément Musil, analyst for the Paris Research Institute of Architecture, Urban and Social Development
The call for more cash came after costs more than doubled on the first line, and after delays and accidents afflicted the Chinese-built section of Hanoi's urban railway. Commentators blame the cost hikes and delays on Vietnam's inexperience in building major complex urban infrastructure.
The German Bank for Reconstruction lent $300m towards the cost of Line 2, and in 2012 it called in an international consortium of consultants led by a German firm to assess the project's design, which was carried out by Vietnam's Transportation Construction and Investment Consultancy.
This found many errors in the project's design, which increased the overall cost, and also that cost projections not accounted for inflation after 2016.
Commentators have blamed the problems on Vietnam's inexperience in developing this type of city-wide infrastructure system.
Clément Musil, an analyst for the Paris Research Institute of Architecture, Urban and Social Development, told the South China Morning Post: "They don't know how to do it. They have to build the institutional framework, and that's why they are hesitating." He compares the situation to Shanghai, which took several years to build its first 13km of track in the 1990s but then went on to build one of the world's largest metro systems.
Huynh The Du, an academic at Fullbright University, told the Thanh Nien newspaper that Vietnam should learn from the experience of South Korea and China, which relied on international know-how and funding to construct their first lines, but later allowed domestic companies to carry out projects. He said: "Vietnam now has multiple foreign investors, limited funds and no policies to encourage technology transfer."
The system
HCM City has developed an ambitious plan to build a six-line regional mass transit system, and construction work has begun on the first two lines.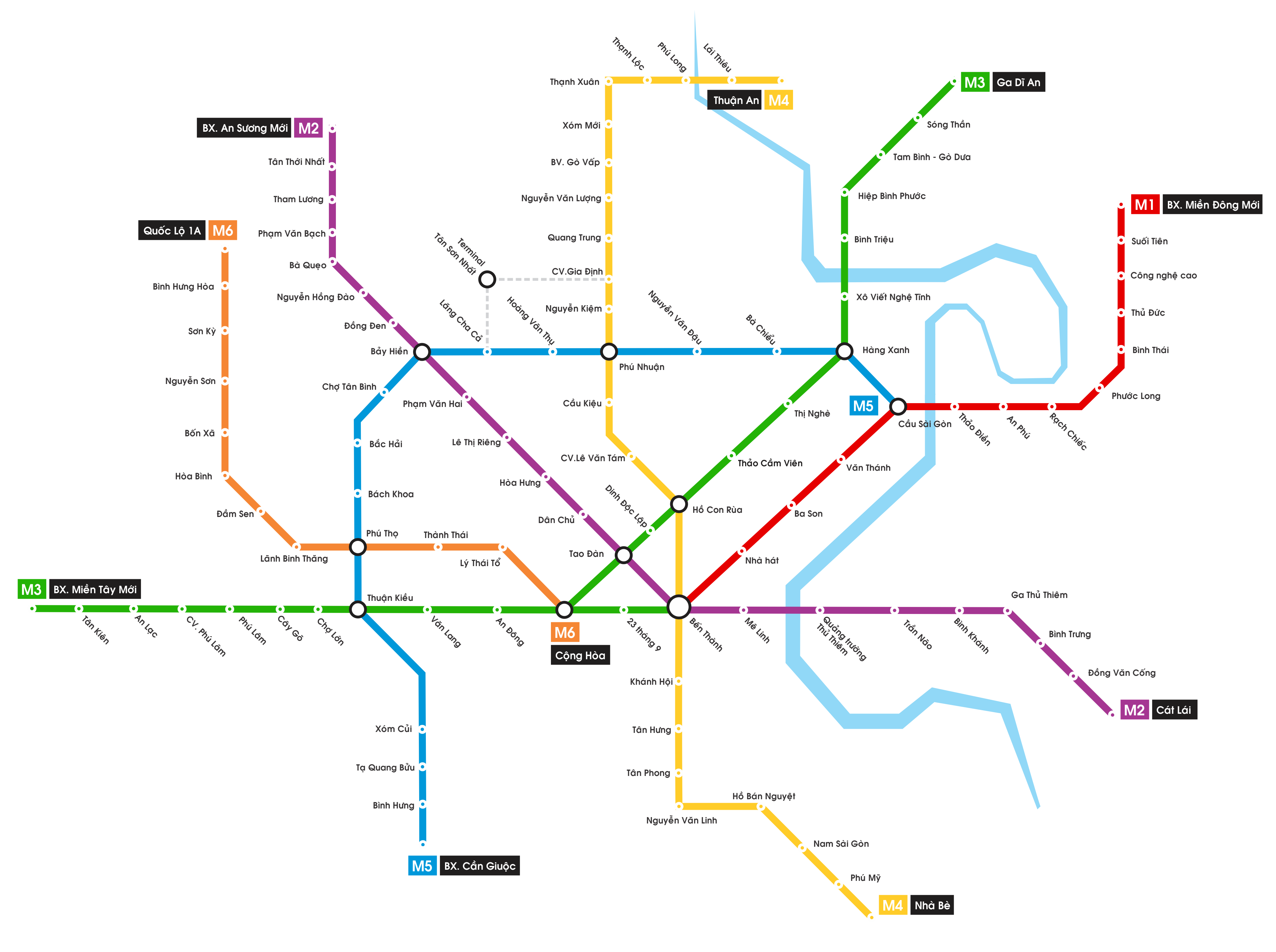 A map of the proposed system (Tran Vinh/Creative Commons)
Line 1, running 20km southwest to northeast, is due to be finished in 2020, two years later than first planned. It is being built by Japan's Sumitomo Corporation, with a joint venture between Tokyo-based contractors Shimizu and Maeda carrying out much of the work, although French, Italian and Korean companies are also involved in the project.
It was originally expected to cost $1.1bn, of which $900m was to come from the Japan Bank for International Cooperation, but costs have now risen to around $2.5bn.
Meanwhile, the cost of the first stage of the Line 5 have increased by 87% to $1.9bn, following another design review by international consultants.

Hanoi's struggle
As HCM City struggles to build its first modern mass transit system, Hanoi is not faring much better with its attempts to put in place a similar programme. The second line in Hanoi's system is being built by a consortium of Chinese companies headed by the China Railways Sixth Group.
On 5 November, 2014, several reels of steel fell from the construction site of a flyover on the line, killing a motorbike driver and injuring two more passers-by. The following month, a 10m-high section of scaffolding fell from the same flyover, trapping three people in a taxi that was travelling beneath it.
In 2015, passers-by began commenting that the track looked "wavy". That August a steel bar fell from another construction site onto a car, nearly killing the driver. This May a government inspection team found rust on sections of the train track that hadn't been covered in protective paint.
One local complained to the Financial Times about the pace of the project: "It's like turtle walking around. I think if Japanese companies built this station, it would not be that slow."
Top image: Waiting for the train (The Saigoneer)
Further Reading: