A University of Colorado Denver professor and former graduate student have been awarded a patent for a new, eco-friendly construction system that turns recycled fibres into high-strength, easy-to-assemble building components. The patent is the first for CU Denver's College of Architecture and Planning.
Professor of Architecture Julee Herdt (pictured) along with former graduate student Kellen Schauermann were awarded the patent for a construction system known as BioSIPS (Bio-Structural Insulated Panels) used to build walls, roofs and floors.
The system turns waste materials like paper, noxious weeds, industrial hemp and discarded forest products into high quality building products used in a variety of construction projects. BioSIPs boards are strong, lightweight and easy to assemble.
As a newly invented sustainable material, BioSIPs can help replace petroleum-based building products. The invention is based on Herdt's research and teaching program at CU Denver and with the US Department of Agriculture, Forest Products Laboratory.
The invention actually consumes society's waste and diverts tons of trash into valuable products– Julee Herdt
"The BioSIPs invention actually consumes society's waste and diverts tons of trash into valuable products for safe, strong, and energy efficient buildings," Herdt said. "There is great beauty and value in waste materials. It just takes the right processes and methods to find it, and with BioSIPs we've invented and now patented these techniques."
As an architect and researcher, Herdt always tests her bio-based inventions in her own residences and projects. She's currently designing her "very small home" in Boulder, Colorado, using BioSIPs and other prototype ideas that she has in the works.
In 2007, Herdt invited CU Denver graduate student Schauermann to work with her in advancing BioSIPs technology. The two founded BioSIPs, Inc. as a CU spin-off company in 2008 while continuing research and development of bio based materials and products. They brought in other CU Denver architecture students for construction of a BioSIPs building made entirely from the SIP panels that showcase a range of bio-based furniture, sliding wall and ceiling panels and signage.
Herdt and Schauermann have an additional patent pending in collaboration with John Hunt of the USDA Forest Products Lab for software applications allowing creation of multi-shaped versions of BioSIPs panels and fibreboards that can curve, bend and take many shapes not possible with other SIPs.
The patent also includes methods for enhancing all grades of waste fibres in their bio-based boards while simultaneously generating information about strengths and economics for manufacturing their products.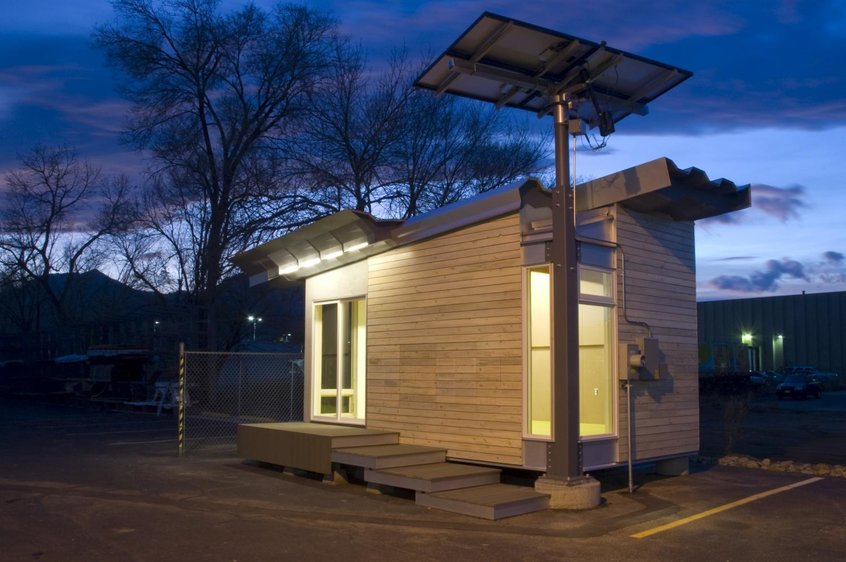 A prototype structure, built by Herdt and her students, constructed completely of BioSIPs (University of Colorado Denver)
Herdt continues to work with the University of Colorado Technology Transfer Office on bio-based building product intellectual property while moving BioSIPs to commercialisation.
After she came to the University of Colorado in the 1990s, Herdt worked with the USDA Forest Products Lab using research and technology to develop BioSIPs board by turning low-grade waste fibres-paper recyclables, agricultural and all types of wood waste-into engineered panels with predictable strengths. The source of the waste can be something as simple as egg cartons, cardboard boxes, newspapers, phone books, scrap wood and plant fibres.
In 2011, through a State of Colorado grant, Herdt completed an entire building, including its interior systems and its furniture, using three and a half tons of waste fibres that had been converted into BioSIPs board. To build the house, Herdt shaped the boards into 3D structural insulated panels for walls, floors and roofs.
"If you tell someone you can build a building out of curbside waste, they look at you and don't believe you," Herdt said. "You have to prove it, so that's what I've been doing."
In 2013, The US Green Building Council honored Herdt's BioSIPs inventions as Colorado's "Green Product" of the year.
Top photograph: Inventor and professor of architecture Julee Herdt, right, explains the BioSIP concept to architect and planner, Andreas Duany (Credit: Julee Herdt)
From CU Denver