Fresh doubts have been cast on the UK's three biggest planned infrastructure projects during a week of unprecedented turmoil ignited by the vote to leave the European Union (EU).
The expansion of Heathrow Airport (pictured), a new nuclear power station at Hinkley Point, and a new high-speed railway network known as High Speed 2 (HS2) have all been questioned in the tumultuous days since the nation's razor-thin majority vote for 'Brexit' on 23 June.
EU-British relations themselves are not the problem – yet. At issue are the immediate side effects of the shock referendum result, namely the falling pound and the political limbo the country now finds itself in.
As for the pound, sterling hit a low of $1.31 on Monday 27 June, its lowest value against the dollar in 31 years. By Friday, 1 July, although Britain's top share index, the FTSE 100, had rallied to levels higher than before the referendum, the pound still languished at around $1.33.
Politically, the UK is now like a car stalled on a busy motorway.
We have to see where we are, we have to recover our balance. Brexit has made waves. We must calm the waves– Michel Sapin, French finance minister
The morning after the vote, Prime Minister David Cameron announced his intention to step down by October, pitching his ruling Conservative Party into a heated leadership contest to decide who will guide the country into the uncharted territory that lies ahead.
Meanwhile the main opposition party, Labour, descended into bitter rebellion, with a majority of its MPs withdrawing support for their leader, Jeremy Corbyn, who in turn is fiercely backed by a purported majority of the party's rank and file.
All we don't know
As the week began there had been speculation that the UK's new prime minister might call a snap election in a bid for a popular mandate for the next, crucial steps.
That possibility seemed to recede as Theresa May, the present home secretary and front runner in the Conservative leadership race, said she would not call an early vote.
All the same, most Britons ended the week unsure 1) who will be in government in three months, 2) when a general election might happen, 3) when Article 50 will be invoked, triggering the formal two-year Brexit negotiation process, or even if 4) Article 50 would ever be invoked at all, given the chorus of voices, both in Parliament and among the general public, calling for a second referendum.
Against this backdrop it is hardly any wonder that UK transport secretary Patrick McLoughlin announced on Thursday, 30 June, that a long-awaited decision on airport expansion in southeast England would be delayed until "at least October".
Artist's rendition of the new twin-reactor nuclear power station, Hinkley Point C (EDF)
Regarding the Hinkley Point C nuclear power station, which France's energy giant EDF is proposing to build and operate with a Chinese company, the French finance minister has admitted that the fall in the value of the pound could affect the project's viability.
And as for HS2, one of the most ambitious infrastructure schemes in British history, doubts have been raised over whether the government can afford the estimated £55bn price tag amid the gathering economic uncertainty, or even spare the time and attention to oversee the scheme.
A delay to your flight
Brexit's first collateral damage seems to be the proposed £17.6bn ($24bn) expansion of Heathrow airport. It is operating at 100% of its capacity, leading to concerns about resilience and disruption.
I can't imagine that any part of Whitehall is going to be thinking or doing anything… except trying to work out where we go [on Europe] from here. That's certainly going to be true in the Treasury. Getting attention on important strategic infrastructure decisions, I fear, has just got significantly harder– Richard Threlfall, KPMG
A decision on expanding airport capacity in the southeast of England has been pending for the past 10 years, and it appeared to have been settled last summer after a government-appointed commission declared itself strongly in favour of expanding Heathrow, over a rival proposal at Gatwick. 
But at the end of 2015 the government opted to take more evidence on the environmental impact of the extra runway, and was due to announce a final decision next month, before parliament went into recess.
That commitment flew out the window this week when transport minister Patrick McLoughlin announced that the decision would be delayed until at least October.
It was hardly surprising, given that David Cameron had relegated his government to little more than caretaker status, but it still dismayed business groups and the freight industry.
"Clearly this is disappointing," said Baroness Jo Valentine, chief executive of London First, a business lobby group. "Nothing can be more vital for a trading island than sufficient air links, especially after the referendum result. There should be no question that whoever takes over from David Cameron must keep the government's commitment to open a new runway by 2030."
The freight lobby tried to shame the prime minister into sticking with the plan.
"In his resignation statement, David Cameron said he had always believed that big decisions had to be confronted, not ducked," said Robert Keen, head of the British International Freight Association. "He should make good on that sentiment by announcing forthwith that there will be no further delay and the Government will move forward with the recommendations made by the Airports Commission by building more capacity at Heathrow airport."
But the delay might give new hope to supporters of an expanded Gatwick. It is just as close to the end of its tether as Heathrow, and its backers have not given up.
Stewart Wingate, the airport's chief executive, said after the referendum that the only way to reconcile a new runway with the economic and the environmental considerations was to build it at his airport.
"In these uncertain times that means Gatwick can give the country certainty of delivery," he said. "And Britain cannot afford yet more delay. We have pledged we can deliver by 2025, at a cost that everyone can afford, without public subsidy and at a fraction of the environmental impact of Heathrow. None of that has changed."
Nuclear options
Another scheme thrown deeper into doubt is Britain's first new nuclear power station in a generation, the twin-reactor Hinkley Point C, which is proposed by France's EDF, with China General Nuclear Power Corporation (CGN) as a 33.5% stakeholder.
Costed at around £20bn, the project is a huge risk for EDF, whose board is riven by disagreements over whether to proceed.The company, majority owned by the French government, has repeatedly postponed a final investment decision and most recently kicked the prospect of any commitment back to September this year.
This week the French finance minister, Michel Sapin, admitted that the fall in the value of the pound could further reduce the project's viability.
A weak pound may mean higher-than-expected costs of labour and imported materials.
In an interview with the BBC's Newsnight programme on Wednesday, Sapin said: "Brexit changes certain aspects, particularly the value of the pound, which is considerably weaker today than it was before."
Sapin then sought to present a united front with EDF in its publicly stated commitment to proceed.
"But we're working on 10, 20 or 50-year timeframes," he said, "so we can put that to one side. From the French side it changes nothing. The determination of the government and EDF is still there to put this agreement into force."
Pressed about the likelihood of Hinkley happening, however, Sapin admitted that, "It's a bit more difficult".
"We have to see where we are, we have to recover our balance," he said. "Again, Brexit has made waves. We must calm the waves."
Asked if, in other words, it was too early to say, Sapin briefly switched to English: "Yes," he said, adding: "Oui."
Et tu, HS2?
Another possible casualty is HS2, the hugely ambitious scheme to build a state-of-the-art rail system between London, Birmingham, Leeds and Manchester.
Two major issues here are cost and the government's capacity to oversee the project, which cleared its final Commons stage in March and is now being considered by the House of Lords.
Officially, the total funding package for HS2 is currently set at £55.7bn, to be funded by the taxpayer. (Sceptics say the final bill will be as high as £75bn.) Any future government's appetite for such a huge bill will depend on the mother of all unknowns, namely Britain's economic fate post Brexit.
Adding to the worries of the wounded pound, three leading agencies, Moody's, Fitch, and Standard & Poor's (S&P), have downgraded the UK's credit rating since the Brexit vote.
"In our opinion, this outcome is a seminal event, and will lead to a less predictable, stable and effective policy framework in the UK," S&P said, reports City A.M.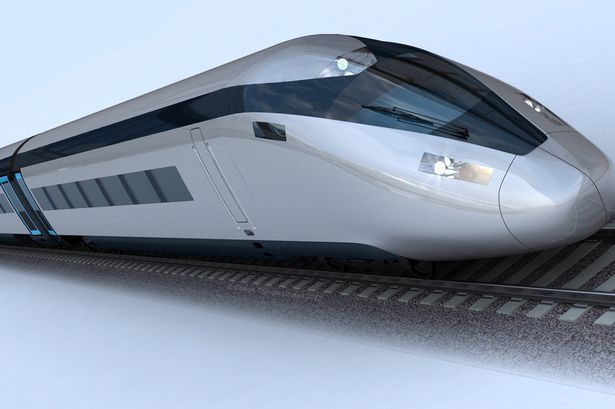 Render of a possible HS2 train (HS2 Ltd)
If not reversed, these downgrades could lead to higher borrowing costs for the UK government, which, together with lower tax revenues in a possible Brexit-sparked recession, would make the HS2 dream simply unaffordable.
The situation prompted Lord Berkeley, a Labour peer and transport expert, to tell the Financial Times that "the priority for the government at this time will not be big sexy projects such as HS2 . . . or the new £4.2bn London super sewer."

Government's loaded plate
Equally important is the issue of the government's political and administrative capacity to oversee the project amid the multiple emergencies ignited by the Brexit vote, which Rob Ford, professor of political science at Manchester University, summed up yesterday in a tweet as "the largest constitutional crisis in post-war history".
Whoever forms the next government will have plenty on its plate, including the urgent need to prepare a Brexit negotiating strategy, to manage the possibility of a fresh bid for Scottish independence, and to avoid economic catastrophe.
"I can't imagine that any part of Whitehall is going to be thinking or doing anything… except trying to work out where we go [on Europe] from here," said Richard Threlfall, head of infrastructure at the accountant KPMG, reports various sources.
He went on: "That's certainly going to be true in the Treasury. Getting attention on important strategic infrastructure decisions, I fear, has just got significantly harder."
Even without Brexit, the project was this week criticised by the National Audit Office (NAO), parliament's public spending watchdog, as having an "unrealistic timetable", and was facing "major cost pressures".
Amyas Morse, the head of the NAO, said yesterday (28 June): "HS2 is a large, complex and ambitious programme which is facing cost and time pressures. The unrealistic timetable set for HS2 Ltd by the Department for Transport means they are not as ready to deliver as they hoped to be at this point. The department now needs to get the project working to a timescale that is achievable."
Speaking to the Birmingham Mail this week, local Labour MP Liam Byrne, put it more starkly: "all bets are off – there are red flashing lights all over this".
Top image: Heathrow's northern runway (Heathrow)