The bosses of three major banks have become the latest high-profile figures to defect from an investment forum in Saudi Arabia next week, as the crisis over the alleged state assassination of Saudi journalist Jamal Khashoggi grinds on.
HSBC chief executive John Flint, Credit Suisse's Tidjane Thiam, and Standard Chartered's Bill Winters today joined a growing list of luminaries pulling out of the Future Investment Initiative (FII) – nicknamed "Davos in the Desert" – set up by Saudi Crown Prince Mohammad bin Salman to attract billions worth of investment for his vast new city developments.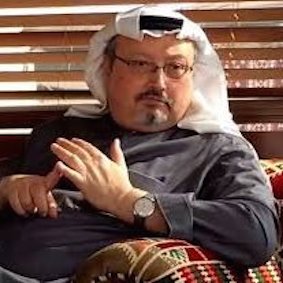 Jamal Khashoggi's Twitter profile picture
These latest snubs, reported by Bloomberg, will add to the pressure on bin Salman to resolve the crisis or risk boycotts of his eye-popping city schemes by the very financiers and tech firms needed to make them happen.
Also dropping out of the FII since GCR reported yesterday is Google Cloud chief executive, Diane Greene, reports CNBC.
And Virgin Hyperloop's CEO Rob Lloyd cancelled his appearance as a speaker after Sir Richard Branson last week broke off talks relating to a $1bn Saudi investment in his Virgin space firms, and suspended his directorships in two Red Sea tourism projects.
Chaired by bin Salman, FII was billed as a platform to "shape the future of global investment through an immersive three-day program featuring interactive conversations with global leaders, private meetings, curated roundtables, world-class entertainment, unparalleled CEO networking, and deep engagement with global media".
The Crown Prince has staked his "Vision 2030" plans for modernising the Saudi economy on foreign investment to fund huge business, tourism and entertainment developments.
These include "Neom", a planned $500bn high-tech city to be built from scratch in the country's northwest, intended as a 26,500-sq-km global haven for futuristic business sectors.
But as alarm and anger mounted last week over the apparent murder of Khashoggi, global media led the charge to desert the conference.
This week financiers started pulling out as well, including the chief executive of JPMorgan Chase, Jamie Dimon, BlackRock CEO Larry Fink, Blackstone CEO Stephen Schwarzman and MasterCard CEO Ajay Banga.
Many of the company chiefs had been slated to speak in a glittering roster published 27 September, but as the crisis unfolded, names have been surreptitiously dropped from the list.
Now FII webmasters appear unable to keep pace with the defections, with seven of the 18 speakers still listed today known to have pulled out.
Background: Turkey v. Saudi Arabia
The incident is fuelling tensions between Saudi Arabia and Turkey, a relationship already fraught by Turkey's growing friendship with Qatar.
Qatar has been blockaded by a Saudi-led coalition of Gulf states and Egypt since June 2017 because, according to analysts, Qatar supports the Muslim Brotherhood.
Turkey and Saudi Arabia have taken steps to limit the diplomatic rupture. On Thursday Turkey accepted a request by Saudi Arabia to participate in the investigation, and a team of Saudi investigators arrived in Istanbul on Saturday, reports Arab News.
Top image: FII webmasters appear unable to keep pace with the defections, with seven of the 18 speakers still listed today known to have pulled out.
Further Reading: