US start-up Hyperloop One has completed a full systems test of its magnetic levitation technology in a vacuum environment.
The experiment was conducted at the company's "DevLoop" test track in the Nevada Desert. The vehicle coasted above the first portion of the track for 5.3 seconds using magnetic levitation and reached nearly 2Gs of acceleration to hit the target speed of 113km/h.
Hyperloop One tested all the system's components, including its motor, vehicle suspension, magnetic levitation, electromagnetic braking and vacuum pumping system. This proved the full system's components could operate successfully as a single integrated unit in a vacuum, according to the company.
Hyperloop One said "nearly 200 engineers, fabricators and welders dedicated thousands of hours to make this test successful".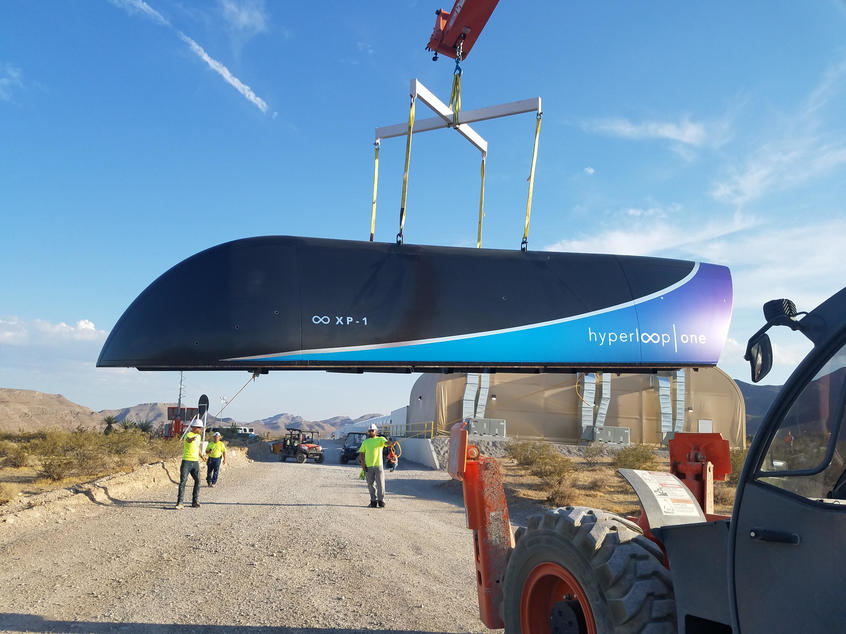 The next phase of testing will target speeds of 402km/h.
Hyperloop One also unveiled the prototype of its pod (pictured).These 8.5m long windowless designs are made from structural aluminum and carbon fibre and can be configured to carry passengers or cargo.
Shervin Pishevar, co-founder of Hyperloop One, said: "We have accomplished what nobody has done before by successfully testing the first full-scale Hyperloop system. By achieving full vacuum, we essentially invented our own sky in a tube, as if you're flying at 200,000 feet in the air.
"For the first time in over 100 years, a new mode of transportation has been introduced. Hyperloop is real, and it's here now."
Images courtesy of Hyperloop One