While recent news from India has been about flashy infrastructure plans, such as 100 "smart cities" and Chinese or Japanese funded high speed rail, last week the focus was on building a much humbler type of amenity – toilets. 
On Thursday (2 October) Indian Prime Minister Narendra Modi wielded a broom in New Delhi to launch a   major campaign to clean up the world's largest democracy, and a key plank of the effort, scheduled to last   until 2019, is the construction of hundreds of millions of lavatories. 
It is a serious issue for India. In a 2014 update on global sanitation, the United Nations reported that nearly half the country -   597 million people – currently defecate out in the open, with major implications for public health. Water.org says that 1,600 Indians die every day from diarrhoea alone, a death toll roughly equivalent to eight Boeing 747s crashing daily. 
The prevalence of preventable disease has an economic impact as well. A 2006 World Bank report estimated   that India was losing 6.4% of GDP annually because of poor access to sanitation. 
India is very much in a league of its own when it comes to open defecation, with 47% of the population   practicing it. In both Indonesia and Pakistan, which come second and third in the UN table, the figure is   approximately 21% (see the table below). 
Prime Minister Modi's choice of 2 October to launch "Swachh Bharat Abhiyan" ("Clean India Mission") is highly symbolic, as it is the birthday of Mahatma Gandhi, father of independent India. He is widely reported to have said: "Sanitation is more important than Independence."Â 
The five-year campaign, costed at $10bn (R62,000 crore), seeks to galvanise the entire nation, including all political parties, government departments, state-owned and private corporations, and each of India's 1.25bn citizens. Pledges to stop littering, spitting, and to promote general public tidiness feature strongly, but it is Modi's plan to give everyone access to efficient toilets that could have a transformative impact on Indian infrastructure and way of life.
1,600 Indians die every day from diarrhoea alone, roughly equivalent to eight Boeing 747s crashing daily–
So far, the corporate world appears to be answering the call. The Confederation of Indian Industry (CII) says it will mobilise the construction of 10,000 toilets over the next year and a half. (The CII points out another damaging effect   the lack of sanitation has on Indian society: more than 100,000 government schools have no toilet facilities   for girls, which CII says contributes to a high drop-out rate for girls aged between 5 and 14.) 
Big state-owned corporations have waded in, too. Oil companies ONGC and Indian Oil pledged to build 2,500 and 1,000 toilets, respectively, this year. Large corporates such as medicines manufacturer Dabur, property developer Unitech, construction giant L&T, Tata, and others have also announced plans to do their bit. There are even reports that "Swachh Bharat" has captured the imagination of such figures as Bill and Melinda Gates and Facebook's Mark Zuckerberg. 
All this buy-in will be encouraging for Modi and the mission's many backers, but something like a miracle   will be necessary to hit the target of a reported 800 million new toilets by the 150th anniversary of Gandhi's birth in 2019. This summer, officials at the Ministry for Drinking Water and Sanitation warned that the limited availability of money, labour, and effective sewerage systems could conspire to push the scheme's realisation back years, to 2022 or beyond. 
An even bigger barrier may be cultural. In a study published just last month a team of researchers asked people in 3,235 rural households in five north Indian states where they defecate and their attitudes to it, and the results were that over 40% of households in India with a working latrine have at least one member who defecates in the open.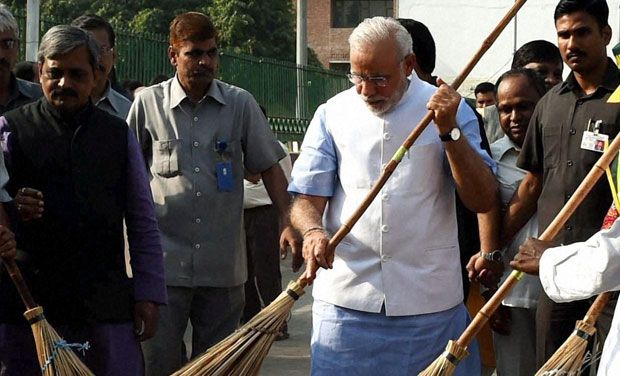 Indian Prime Minister Narendra Modi wields a broom on New Delhi's dirty streets on October 2 for the launch of the ambitious Clean India Campaign (Deccan Chronicle)
Respondents offered a range of reasons for this. Most said they found it "pleasurable, comfortable, or convenient", while others said it "provides them an opportunity to take a morning walk, see their fields and take in the fresh air". Still others regarded open defecation as "part of a wholesome, healthy virtuous life". 
"Our data predict that if the government were to build a latrine for every rural household that   lacks one, without changing sanitation preferences, most people in our sample in these states would nevertheless defecate in the open," the authors concluded. 
Nevertheless, concerted national campaigns to build facilities and change minds do work. Thailand began tackling open defecation in the early 1970s and now nearly 99% of the population has toilets or sanitary latrines. It may be a stretch for India to do in five years what Thailand did in five decades, but there is every reason to hope that, in time, the country will be flushed with sanitary success. 
The UN's ranking of the top 10 countries for open defecation (millions of people doing it):
India 597Â 
Indonesia 54Â Â 
Pakistan 41Â 
Nigeria 39Â 
Ethiopia 34Â 
Sudan 17Â 
Niger 13Â 
Nepal 11Â 
China 10Â Â 
Mozambique 10Â 
Source: WHO/UNICEF Joint Monitoring Programme for Water Supply and Sanitation (JMP). May 2014