Virgin Group's Richard Branson is celebrating this week after the Indian state of Maharashtra signed an agreement to build an Elon Musk-inspired hyperloop line between the cities of Pune and Mumbai.
Under the agreement signed on 19 February with Branson's Virgin Hyperloop One, the project will start with a six-month in-depth feasibility study into costs and impact.
The aim is for the demonstration track to be constructed in two to three years, with construction of the full Pune-Mumbai route starting in five to seven years.
Dreamt up by space travel-electric vehicle moghul Elon Musk, the hyperloop concept sees people-carrying pods whizzing through vacuum tubes at more than 600mph, a system Musk belives could replace medium-haul air travel between cities.
The transport corridor between Pune and Mumbai is one of India's busiest (Virgin Hyperloop One)
A hyperloop between Pune and Mumbai, one of the busiest transport corridors in India, would cut the journey time between the two cities from a 2.5-hour drive to just 25 minutes, and unlock significant capacity for freight movement.
In October last year Branson made an investment in Hyperloop One, one of the companies racing to commercialise the concept, and became chairman of the new entity called Virgin Hyperloop One.
"I believe Virgin Hyperloop One could have the same impact upon India in the 21st century as trains did in the 20th century," he said in a press statement after the signing.
"The Pune-Mumbai route is an ideal first corridor as part of a national hyperloop network that could dramatically reduce travel times between India's major cities to as little as two hours. Virgin Hyperloop One can help India become a global transportation pioneer and forge a new world-changing industry."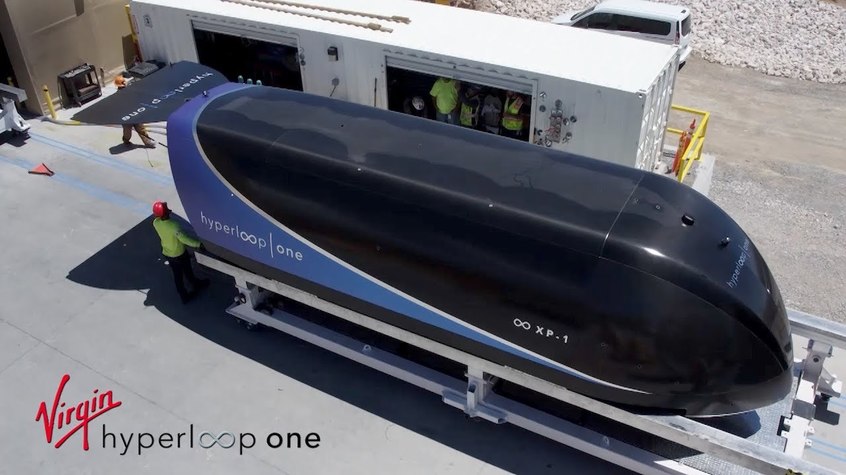 Render of a Virgin Hyperloop One pod
"With Virgin Hyperloop One, we can create a sustainable infrastructure that will enhance the State of Maharashtra's competitiveness and attract new investment and businesses," said the Chief Minister of Maharashtra Devendra Fadnavis.
"The Pune-Mumbai hyperloop route will be an economic catalyst for the region and create tens of thousands of jobs for India's world-class manufacturing, construction, service, and IT sectors and aligns with Make in India initiatives."
If the feasibility study produces a positive result, the hyperloop route would link central Pune, Navi Mumbai International Airport, and Mumbai in 25-minutes, connecting 26 million people.
Virgin Hyperloop One said the high-capacity passenger and cargo link will eventually 150 million passenger trips annually, saving more than 90 million hours of travel time, and providing citizens with greater opportunities and social and economic mobility.
The hyperloop system would also have the potential for the rapid movement of palletised freight and light cargo between the Port of Mumbai and Pune, "creating a robust backbone for on-demand deliveries, supply chains, and next-generation logistics", the company said, which would result in $55bn in socio-economic benefits.
Top image: Virgin Hyperloop One's 500-m-long test tube at Devloop (Virgin Hyperloop One)