A brand new hospital funded by the people of Indonesia has opened in the Gaza Strip after a five-year effort.
The official opening ceremony for Indonesia Hospital was performed on 9 January by Indonesia's vice president, Jusuf Kalla, Turkey's Anadolu news agency reported.
Since first opening its doors to patients on 27 December, the hospital has been treating more than 250 patients a day–
He said the hospital was "symbol of cooperation" between Indonesia and Palestine and that he hoped it would serve as an example that action could be taken by external states to help Palestinians gain independence.
First launched in 2010, the hospital's opening was delayed by fighting and restrictions on imports imposed by Israel and Egypt, according to Reuters.
The $8.7m facility, the first to open in the Palestinian territory for 10 years, has 100 normal beds and 10 intensive care beds, making it the largest medical facility in northern Gaza.
It was intended to act as a specialist psychiatric and trauma centre, but has been redesignated as a general hospital at the requests of the Palestinian health ministry. Â 
Since first opening its doors to patients on 27 December, the hospital has been treating more than 250 patients a day. As well as general treatment, the hospital will offer specialist abdominal care, and has Gaza's only modern CT scanner. It is staffed by Palestinians, helped by a few Indonesian volunteers.
Built on 9ha of land donated by the government of Gaza, the hospital is on a hill near Jabaliya, Gaza's largest refugee camp, 3km from the Israeli border.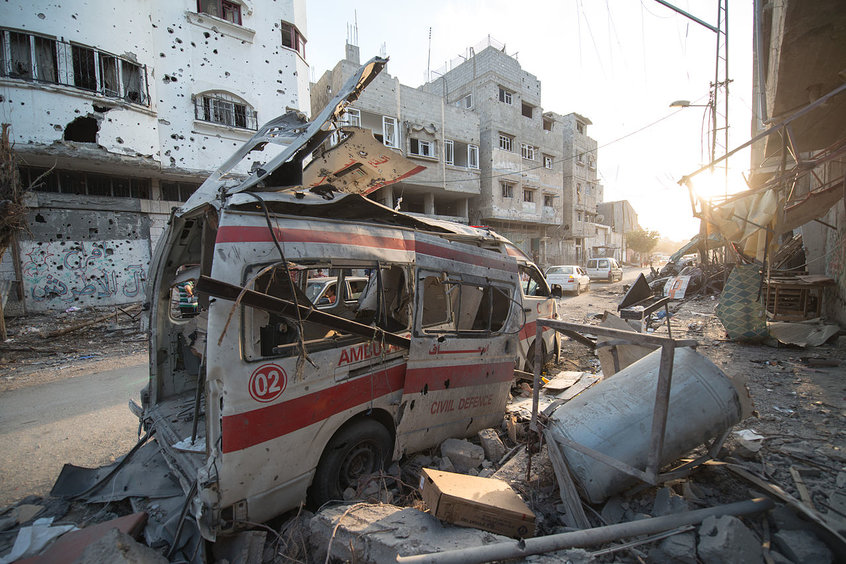 Ambulance destroyed during hostilities in the Gaza Strip, August 2014 (Boris Niehaus/Wikimedia Commons)
The scheme was organised by Indonesia's Medical Emergency Rescue Committee (MER-C).
Not enough beds
Edy Wahyudi, an engineer with MER-C, told Reuters: "We came to Gaza in 2009 and we saw patients and no medicine and not enough hospitals."
Gaza has a population of almost 2 million people, and only 1.3 beds for every 1,000, said Reuters, citing the World Bank. In Israel the ratio is about 3.3 and in the EU it is 5.4.
Patients in Gaza must rely on healthcare provision in the Strip, as Israel will only treat patients who are in danger of dying.
Gaza residents have high demand for healthcare given conditions in the occupied territory after the 2014 war.
According to UNWRA, the UN agency tasked with helping Palestinian refugees, the conflict during July and August that year left 11,000 people injured in Gaza, of whom 1,000 are children now with a permanent disability.
UNRWA estimates that nearly 140,000 houses were damaged or totally destroyed.
The 50-day conflict saw 2,262 Palestinians killed, of whom 1,500 were civilians, including 551 children. The Israeli death toll was 71 killed, of which 66 were soldiers, and one child.
UNRWA has warned that the present pace of reconstruction must accelerate if Gaza is ever to be rebuilt.
Lived in the Strip for several years
The work on the hospital was largely carried out by engineers in Gaza, with help from MER-C teams, who lived in the Strip for several years while work proceeded.
The site investigation was carried out by staff from the Islamic University of Gaza, and a contractor called First Company was chosen out of five who applied to MER-C's tender in a local paper – a process complicated when the Indonesian team was denied entry to the strip.
An Indonesian volunteer construction team from MER-C before setting off for Gaza in 2014 (MER-C)
Structural work began in May 2011 and took nine months to complete, with students from the local Al Fattah boarding school helping with the work.
It was originally due to be funded by the Indonesian government – the idea for the hospital was announced by former president Susilo Bambang Yudhoyono during a press briefing with Palestinian Authority President Mahmoud Abbas in 2010. However, it was paid for by donations to MER-C.
The Indonesia Hospital will be joined later this year by the $34m Turkish-Palestinian Friendship Hospital, which also took five years to complete, and a Qatari-funded clinic specialising in the fitting of prosthetic limbs.
Prize draw apartments
Elsewhere in Gaza, the first phase of the Sheikh Hamad residential project in Khan Younis, a town in the south of the strip, has been completed.
Mohammed Al-Emadi, the Qatari head of the Committee to Reconstruct Gaza, said he will deliver the new apartments to 860 beneficiaries who were selected by means of an electronic lottery.
The residential project consists of three phases, the first phase of which has 1,060 residential units. Qatar has pledged $407m for the reconstruction of Gaza including the construction of 2,500 apartments in October 2012.
Al-Emadi said Qatar was continuing its efforts to solve Gaza's electricity crisis, including the extending of a gas pipeline from Israel to the enclave's only power plant.
Qatar is also in discussions about ending the decade-long siege of the strip by opening the Rafah Crossing.