The landslide victory of Narendra Modi's Bharatiya Janata Party (BJP) in last week's Indian elections has led to expectations of an infrastructure boom. David Rogers reports.
During his campaign Modi promised to construct 100 "smart cities" and to create a high-speed rail network. The BJP's manifesto said it would ensure the cities were "enabled with the latest in technology and infrastructure" and would be sustainable.
Modi, who describes himself as a lover of technology, built his political reputation on infrastructure work carried out in Gujarat, the state where he has been chief minister for the past 13 years.
His particular claim was to have electrified every village and constructed a modern road system. The BJP won 335 of the 543 seats in the Indian parliament, so it will be free to enact its legislative programme.
Suresh Prabhu, a former BJP minister who is believed to be in line for a job as energy or infrastructure minister, told India's Economic Times that he expected infrastructure investment to total $10 trillion over three decades.
In contrast to China, whose population is expected to stabilise at 1.4 billion, India is faced with continuing population growth.
Its urban population is expected to rise from 28% in 2001 to almost 36% in 2026, bringing the number living in urban areas to 590 million.
According to a recent McKinsey report, India's Urban Awakening, the country will need to build 20 to 30 cities in the next decade alone. So far, plans have been drawn up for 24 smart cities, situated along high-speed regional transport networks.
These cities are being conceived on a grand scale. One of them, to be called Dholera, is being planned to cover 903 square kilometres, which would make it twice the size of Mumbai.
The site is on a salt flat that is presently covered by seawater. However, it is part of the future Delhi-Mumbai industrial corridor, one of a number of corridors that planners hope will be the backbone of India's future economy.
The centrepiece of the high-speed rail plan is the "diamond quadrilateral", which would be the rail equivalent of the 5,800km "golden quadrilateral" of modern roads that now connect Mumbai, Delhi, Kolkata and Chennai. This project was launched by the former BJP prime minister Atal Bihari Vajpayee.
The Indian rail system is likely to be developed with technical and financial assistance from Japan.
In January India's then prime minister Manmohan Singh held talks with Shinzo Abe, prime minister of Japan. After the talks it was reported that Japanese bullet trains would run between seven pairs of cities, financed by a sale of shares and a loan from the Japanese government. The system would be run by a Japanese-Indian joint-venture company.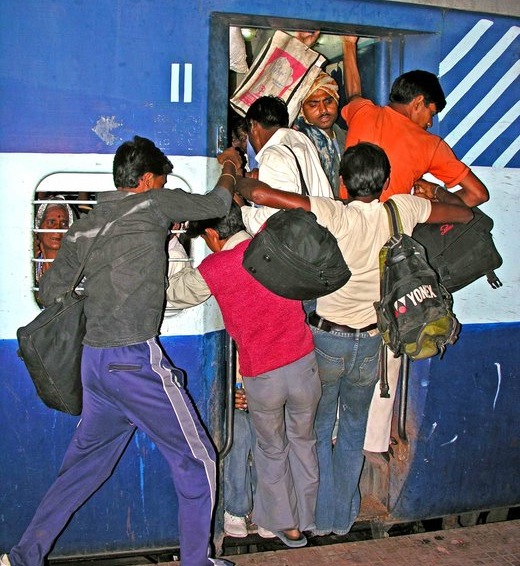 India's railway system is due for an upgrade, but don't expect a high-speed network to arrive before 2020 (Wikimedia Commons)
The other countries in the running were China and France. The Japanese won because their technology was thought to be safer, and their loan was on more attractive terms. Each of the seven lines discussed would cost about $5bn.
A feasibility study is being conducted on a 500km high-speed line between Mumbai and Ahmedabad in Gujarat; this is due to be concluded by July 2015. Japanese engineers are reported to be concerned about availability of electricity to power the line. Estimates vary for the time it will take for the first bullet train to move, but none put it at before 2020.
The other six corridors identified by the government include Amritsar to Patna, New Delhi to Jodhpur, Howrah to Haldia, Mumbai to Pune and Hyderabad to Thiruvananthapuram. The Amritsar-Patna link is reported to be the next priority after the Mumbai-Ahmedabad line.
Others plans for the 115,000km rail network include upgrading lines used by tourists and the use of solar energy to light and air-condition coaches. The BJP's manifesto said an agricultural rail network would be established, with wagons designed to move milk, vegetables and salt.
Other infrastructure networks mentioned in the BJP manifesto are a national fibre-optic network to bring broadband internet access to India's villages and a national grid of gas lines. It also said it would build hydroelectric power plants, modernise India's airports and begin an airport construction programme.