Designer Atkins yesterday celebrated the opening of an unprecedented luxury hotel built inside a 90-metre-deep abandoned quarry near Shanghai.
Its unique location allows the 336-room InterContinental Shanghai Wonderland to claim that 16 of its 18 floors are "underground", two of them underwater in the pit's bottom.
Developers pitch the rugged, post-industrial setting as an attractive feature, with rocky cliffs and waterfalls. A standard room starts at around $488 a night.
The hotel is in the Shenkeng Quarry, situated in the Sheshan Mountain Range, 30km from Hongqiao Airport.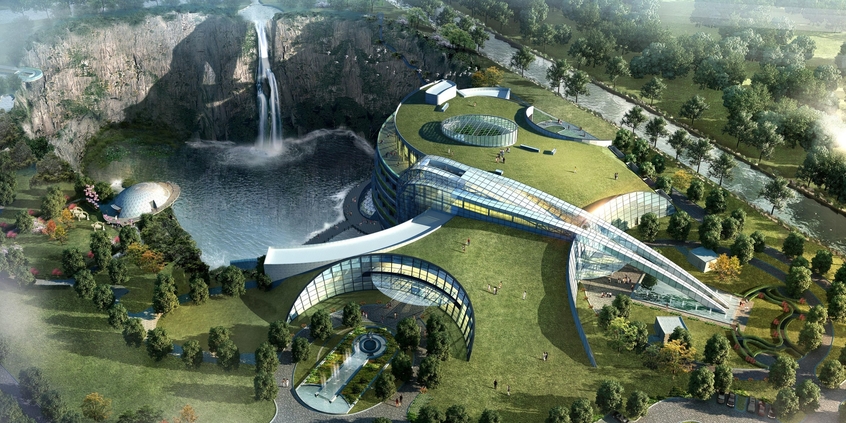 Developers pitch the rugged, post-industrial setting as an attractive feature, with rocky cliffs and waterfalls (Render courtesy of InterContinental Shanghai Wonderland)
"Every once in a while, architects create something truly extraordinary, truly unique, reminding the world what great architecture is all about," said Bertil de Kleynen, Sector Director for Architecture, Planning, Landscape and Interiors at SNC-Lavalin's Atkins in Asia Pacific, in a press release.
Construction started in 2013, with the location throwing up particular challenges, including flooding.
Before work began, heavy rainfall caused a nearby river to burst its banks, filling half the quarry with water, Chen Xiaoxiang, chief engineer for developer Shimao Property, told AFP news agency.
To stop that happening again, designers ordered an embankment to be built around the quarry's edge.
"It's a project that's completely new, a project we have never encountered before. There were no references, cases or experience we could learn from to solve all the difficulties," Chen told AFP.
He added: "If something like that had happened after construction was complete, it would have been a devastating blow."
A pump house keeps water levels down to protect guests, who are invited to try rock climbing on the quarry walls.
Two floors emerge above the quarry's edge (Photograph courtesy of Atkins)
Yesterday's opening is a dream come true for British architect Martin Jochman, who was the original concept designer in 2006, and who has been working with Shimao on it since 2013.
"This was a totally unique idea, to really do something special with a site that was forgotten and nobody knew what to do with, and to give it new life," Jochman told AFP.
"I never lost my belief that it would be done one day, but it is here now, and I am really excited and amazed by the whole thing."
In the hotel world, the "quarry hotel" has been long anticipated.
It won "Best Chinese Futura Projects" at MIPIM Asia 2011, and "Best Hotel Architecture China", "Best Hotel Architecture Asia Pacific" and "Best International Hotel Architecture" by International Hotel Awards 2013.
Top image: Construction started in 2013, with the location throwing up particular challenges, including flooding (All images courtesy of Atkins)