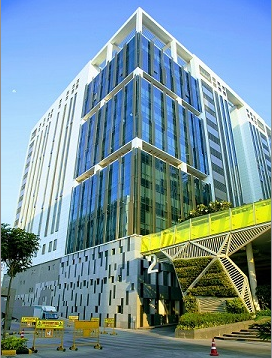 Image courtesy of Jacobs
US engineer Jacobs has opened an office for 2,200 employees in Navi Mumbai, in the west Indian state of Maharashtra.
The new Gigaplex Office (pictured) houses one of the firm's largest workforces at a single location and will provide work for clients across the Americas, Europe, the Middle East and Asia.
Vinayak Pai, Jacobs' interim head of global petroleum and chemicals, said: "This expansion is crucial to Jacobs' growth strategy and further enhances our ability to provide innovative solutions to our global clients."
Ron Reed, managing director of Jacobs India, said: "Expanding our presence in a new and modern facility like the Gigaplex Office, coupled with our investment in a common set of tools and processes, further enables us to partner with our global teams and work more closely with our international clients."
Jacobs has been operating in India for over 50 years.
Earlier this year Jacobs bought rival CH2M for $2.85bn and secured a role on a $7bn rail project in Malaysia.