Japan's decision to open up its retail electricity market to new entrants is expected to lead to the construction of as many as 43 coal-burning power stations in the next 12 years, an expansion of almost 50% on its current number.
The Environment Ministry gave the green light to the construction of new coal-fired power plants in February, and at least 43 projects have already been announced.
Now Japan has a total of 90 coal-fired units with total capacity of 40.5GW. A list of the proposed plants, which will have a total capacity of 20.5GW, was compiled recently by Reuters, and can be seen here.
Coal is relatively cheap compared to other ways of generating electricity and in the newly liberalised world of Japanese power, cost is set to be a key consideration for suppliers.
Japan must also add generating capacity to replace nuclear power stations closed in the wake of the 2011 tsunami. Before that catastrophe, nuclear supplied a third of the market.
The need is urgent because, despite Japan's sluggish economy and declining population, the Ministry of Economy, Trade and Industry has said it is planning for a scenario where demand rises by 22% to 1,177 billion kWh by 2030.
The scramble for customers
The country's 10 regional utilities lost their monopoly over electricity supply on 1 April, and 266 companies are now licensed to supply the $70bn domestic market. Among those competing for consumers are telecoms firms, trading conglomerates and even a travel agency.
Some 85 million electricity consumers can now pick their supplier on the basis of price, but also on other criteria, such as how green the generating method is, or, in the case of telecoms firms KDDI and SoftBank, whether they subscribe to their mobile phone network.
Some suppliers, such as Tokyo Gas and Japan's biggest refiner JX Holdings, are offering discounts of 10%.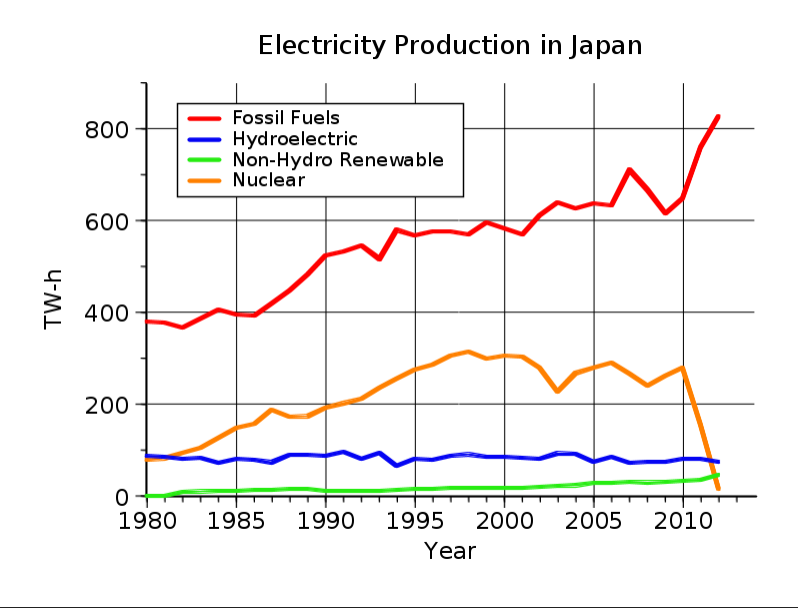 The effect of the 2011 tsunami on Japan's electricity production (Wikimedia Commons)
In the newly competitive market companies are forming alliances to bundle electicity with other goods and services. Reuters reports that railway operator Tokyu Corp is joining forces with convenience store giant Lawson to link electricity subscriptions to internet and cable TV services.
Most of the coal plants will be built and operated by established suppliers and heavy engineering giants such as Mitsubishi, but others are to be built by new players such as Nippon Paper, which is planning three power stations in the next two years.
The first, a 100MW unit, is to begin on site in September southwest of Tokyo, with a 149MW coal and biomass plant to follow in the northeast of Honshu in March 2018. A 112MW plant is planned for Akita in northwest Honshu later that year.
A new steam age
Coal is cheap partly because of a decline in demand in other developed countries, who are concerned about air pollution and the need to meet carbon emission targets.
China, the world's largest producer and consumer of coal, is to halt new coal power plant in 15 regions, it was announced last month.
As Japan has no fossil fuel resources, Japan presently imports about 114 million tonnes of coal, a rate that has more than doubled since 2000.
It was reported earlier this week that Japanese importer Tohoku had negotiated a 9% price cut from Glencore, the Anglo-Swiss mining giant that supplies the country with Australian coal. This brings coal prices to US$61.60, their lowest level for nine years, with further cuts expected later in the year.
Japan will endeavour to offset the greater carbon output of coal stations by  introducing guidelines that call on power companies to report annual emissions. The ministry also will block construction of low-efficiency coal plants and stipulating that coal should not exceed 50% of overall fossil-fuel power.
Top photograph: A coal mine in Inner Mongolia. China, the world's biggest coal producer, is cutting back on coal power stations (Herry Lawford/Wikimedia Commons)