6 November 2013
Mitsubishi Corp., Asia's largest trading company by market value, has decided to expand into property development in Southeast Asia as its commodity business suffers from the slowdown in China.
Reuters reports that the first project, starting next year, will be a 1,000-unit apartment complex in Manila, capital of the Philippines, at a cost of $405 million.
The company says it will bring "Japan's advanced technologies and real estate development know-how" to the scheme.
Mitsubishi has allied with local Ayala Land Corp. for the project and is looking for similar opportunities in Vietnam, Indonesia and Myanmar, Mitsubishi's head of township development and construction, Masahiro Nagaoka, told Reuters.
"We see in those countries large populations, a pent-up demand for housing, and a chance to enter markets that aren't yet crowded," he said. "We will look for local partners in each country."
The fresh direction for the Japanese giant comes as Chinese huge demand for resources slows. In alliance with BHP Billiton, Mitsubishi is the world's top exporter of coking coal used to make steel. In May it said it wants to double earnings from non-commodities by 2020, from $1.82 billion last year.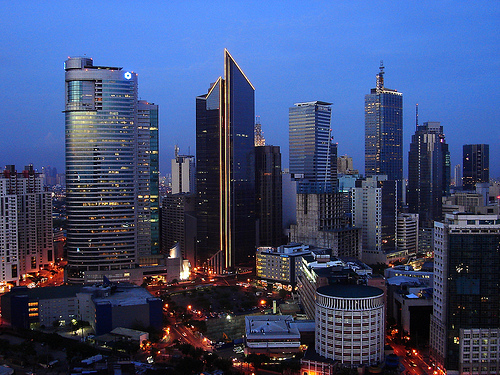 Manila's central business district (Pyro o96/Wikimedia)
The company has already entered US and Chinese real estate and property markets, and the company sees Southeast Asia as its next growth market, Mr Nagaoka said.
Mitsubishi will take a 40% stake, the maximum for a foreign entity in the Philippines property market, in Albeo Land Corp., a unit of Ayala Land.
Construction of the apartments on a 3.6-hectare site in Manila's Ortigas business district will be done in several stages over eight years, Nagaoka said.
Target buyers will be local upper-middle income population. Mitsubishi says the Philippines is growing due largely to the success of its business process outsourcing sector and a growing, young labour force.
Mitsubishi has worked with Ayala Land's parent company, the Ayala Corp. conglomerate, for 40 years, Mitsubishi says.
Mitsubishi is studying projects in Vietnam, Indonesia and Myanmar and doesn't exclude working with other partners in the Philippines on new projects, Mr Nagaoka said.