23 April 2014
Work will begin next week on the latest contender for the title of world's tallest building: the Kingdom Tower in Jeddah. It is thought that the finished building will be a kilometre tall, making it 173m higher than the Burj Khalifa.
Binladin Group, the largest contractor in Saudi Arabia, is expected to begin work on the above-ground portion of the project this Saturday. Work on the tower's 60m-deep foundations began last April after the project's developer, Kingdom Holding, appointed Mace and EC Harris to manage the project.
When it is completed in 2018, the tower will be the centrepiece of a $13bn, 5.2 square kilometre urban quarter called Kingdom City. The district will border the Red Sea, and will be built around a network of lakes and canals.
The scheme was originally intended to go ahead in 2008 with Dubai's Emaar Properties, the Gulf's largest developer, in control of the work. That arrangement was ended by the financial crisis, and the project was postponed until Binladin Group agreed to take an equity stake in 2011.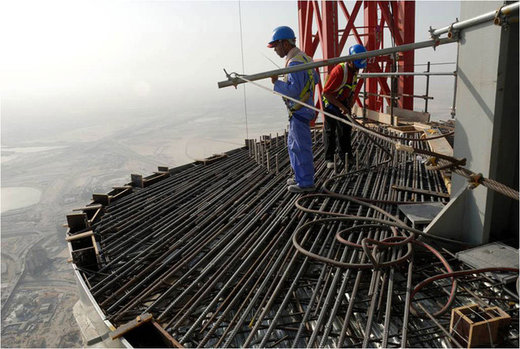 At Dubai's Burj Khalifa, concrete had to be pumped to greater heights than ever before. At the Kingdom tower, it will go higher still (Putzmeister)
The cost of the tower is estimated to be $1.2bn. It will have have 200 storeys and its construction will require about half a million cubic metres of concrete and 80,000 tons of steel, according to the Saudi Gazette.
The main limiting factor for buildings this tall are the number of elevators required to move its inhabitants around. When completed, the Jeddah tower will have 59, including five that are double deckers. Those that take visitors to the observatory will travel at 10m per second.
The main engineering problem for the tower's engineers is the danger of seawater corrosion to the tower's concrete foundations.
There is also a need to pump liquid concrete to  greater heights than ever before. At the Burj Khalifa, a Samsung-led engineering team pumped almost six million cubic feet of concrete through a single tube, thanks to high-tech pumps developed by German company Putzmeister. The tower's engineers will face an even tougher challenge.