Two Canadian firms will build a million-square-foot cannabis operation in Australia in a gamble for C$1bn-a-year revenues in what they hope will be a booming legalised recreational market.
The C$50m project has the backing of the local council in Richmond Valley, New South Wales, which will give the joint venture 27 hectares of land free of charge for five years on the prospect of 300 new jobs created and a boost to the local economy.
The team of MYM Nutraceuticals and PUF Ventures, each of whom have applied to be licensed cannabis growers in Canada, claim their Northern Rivers Project near the town of Casino will produce 100,000kg of high quality cannabis per year, which they say is worth between C$800m and C$1.1bn, based on current prices in Australia.
They claim their million-square-foot greenhouse and manufacturing, processing and office facilities will be the biggest medical cannabis operation in the southern hemisphere, and that Casino, now known as the Beef Capital of Australia, will also be "the Medical Cannabis capital of the Southern Hemisphere".
With it, they hope to corner a big potential market.
"Australia has introduced progressive medical cannabis laws in the past few years, and are essentially where Canada was four years ago," MYM said in a statement. "Assuming recreational cannabis becomes legal and with a population of more than 24 million people, it is estimated that the cannabis market in Australia will grow to C$9 billion over the next 7 years making it a very attractive market."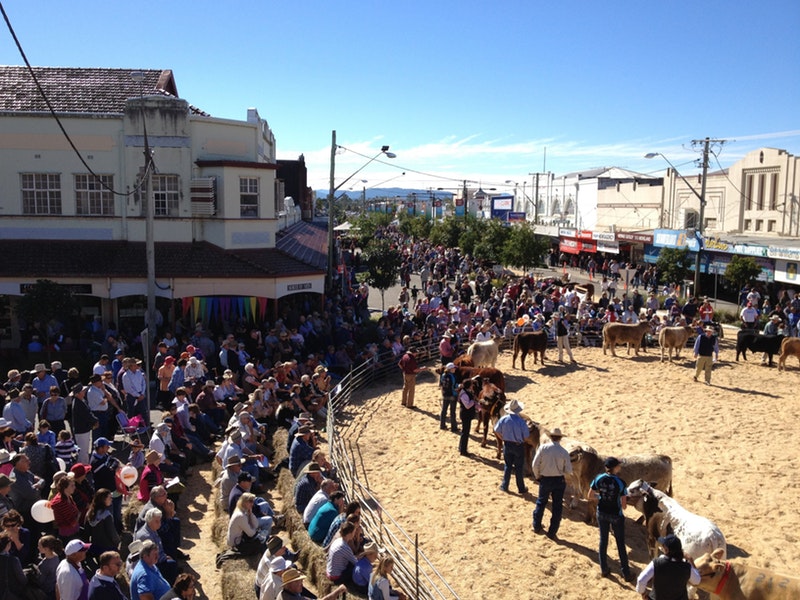 Beef Week at Casino: The town is now known as the Beef Capital of Australia, but it soon may be "the Medical Cannabis capital of the Southern Hemisphere", too (https://www.visitnsw.com)
MYM said its analysis suggests these prices will hold or likely increase due the higher-margin, high-quality medical-grade cannabis grown. Total operating costs are estimated to be between 20-25% of gross revenue.
MYM will own 35% of the Northern Rivers Project, while PUF Ventures Australia has entered into to a purchase option agreement with Richmond Valley Council for the 27-hectare parcel of land.
The council will provide the land for five years at no cost, with an option for PUF to buy it on favourable terms after year five.
Richmond Valley Council hopes the facility will draw other investments in research, education, manufacturing and tourism.
The construction has an estimated total cost of C$50m. The first phase is to cover approximately 300,000 square feet, which upon completion will be the largest medical cannabis greenhouse in Australia, MYM said.
Based on current construction timelines, permitting and various Australian approvals, the first crop is expected to be planted in the fourth quarter of 2018. PUF will seek financing to cover the costs of the project from both local and international partners.
The deal mirrors one MYM made the Canadian municipality of Weedon, Québec earlier this year to build a 1.5 million square foot greenhouse facility there.
Canada is on track to legalise recreational cannabis use in July 2018, following an election campaign promise made by Prime Minister Justin Trudeau.
With its licensed sale model, the government is hoping to reap billions in tax revenue, but would-be producers are now scrambling to stock up on supplies.
Top image: Cannabis sativa plant (Wikimedia Commons)