British engineer Rolls-Royce is to begin a feasibility study for the production of small modular reactors (SMRs) for the Jordan Atomic Energy Commission (JAEC). The two sides signed a memorandum of understanding at the British embassy in Paris on Thursday.
Harry Holt, the president of Rolls-Royce's nuclear division, said: "With demand for global energy set to rise due to new technologies such as electric cars and increasing requirements for water desalination and district cooling, international interest in Rolls-Royce's SMR technology is growing. It represents an important British export opportunity."
Rolls-Royce estimates that the global SMR market will be worth between £250bn and £400bn by 2035.
Khaled Toukan, the chairman of the JAEC, said: "SMRs offer unique opportunities to address many of the challenges confronting Jordan, in particular water scarcity and small grid size, through the introduction of nuclear in the country as part of the energy mix."
Jordan depends on foreign oil and gas for 96% of its energy. This dependence, which consumes a significant amount of its national income, has led it to plan investments of $15bn in renewable and nuclear energy.
The two sides will now work together to define the technical, safety, economic and financial requirements for constructing a Rolls-Royce SMR power station in Jordan for generation and desalination, after which the JAEC will decide if and when it will move to the project delivery phase.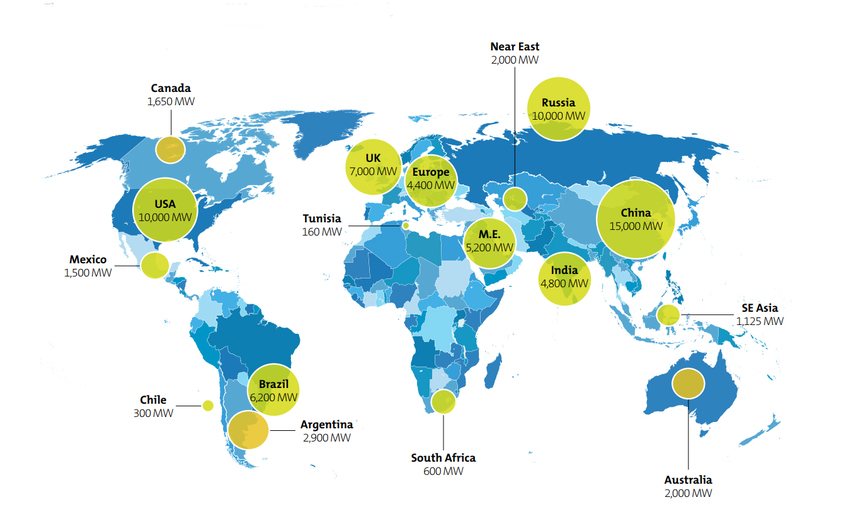 Rolls-Royce's estimation of the SMR market in 2035
Small nuclear reactors have long been used to power aircraft carriers and submarines, however these are to some extent "one-off" designs. Their modularisation would mean they could be mass produced to offer cheap and portable energy sources. This is partly because regulatory approval would be granted to the production process, rather than to each individual reactor, and partly because it would avoid the construction risk associated with large nuclear by assembling almost all of the reactor's components in a controlled factory environment.
Rolls-Royce estimates that its SMR design could produce electrical energy for as little as £60 per megawatt hour, compared with a price of £57.50 for the UK's latest offshore wind auctions, and a predicted average price in the region of £53 between 2023 and 2035.
A number of countries are developing SMR designs, with the first to achieve certification likely to have the market to itself. The UK is aiming to have a unit in production by 2030. Meanwhile the US government is supporting a number of designs with its $452m SMR Licensing Technical Support program. 
The most advanced project is presently Chinese, where Chinergy has made a start on building a 210MW high-temperature gas-cooled reactor. 
Top image: One key advantage of the SMR is that it can be moved to where it is needed (GCR)
Further Reading: