Consultant EC Harris predicts construction inflation could soar to 18% during the peak construction boom ahead of the 2022 World Cup in Qatar, and offers this advice to calm things down.
There is about 30% spare capacity in the Qatar construction market right now, and a similar amount in the wider GCC markets, EC Harris believes.
But with construction output expected to grow by more than 12% per annum as the 2022 World Cup nears, that capacity won't last long.
In a report released 27 March, the UK-based consultant predicted that construction inflation will rise steadily, reaching a peak of 18% during the pre-tournament construction boom, between 2016 and 2019.
To help stop the market boiling over – adding billions of unnecessary dollars to the cost of Qatar's historic development – it offered advice to the government in four areas it believes are key.
 
Capability of the existing supply chain
Although many Qatar construction firms report spare capacity now, it won't last.
EC Harris says local companies and international contractors should team up, especially since large international contractors are already knocking on the door, including significant players from the Far East.
Local contractors not accustomed to delivering projects worth $100m or more will need to skill up, which normally involves joint ventures.
The government can help by removing unnecessary barriers to entry for foreign firms, EC Harris said.
For their part, companies need to start building strong relationships with reliable subcontractors now, and get used to involving them early in project planning.
The industry generally should also develop capability in the pre-fabrication of higher-value plant and equipment, the report said.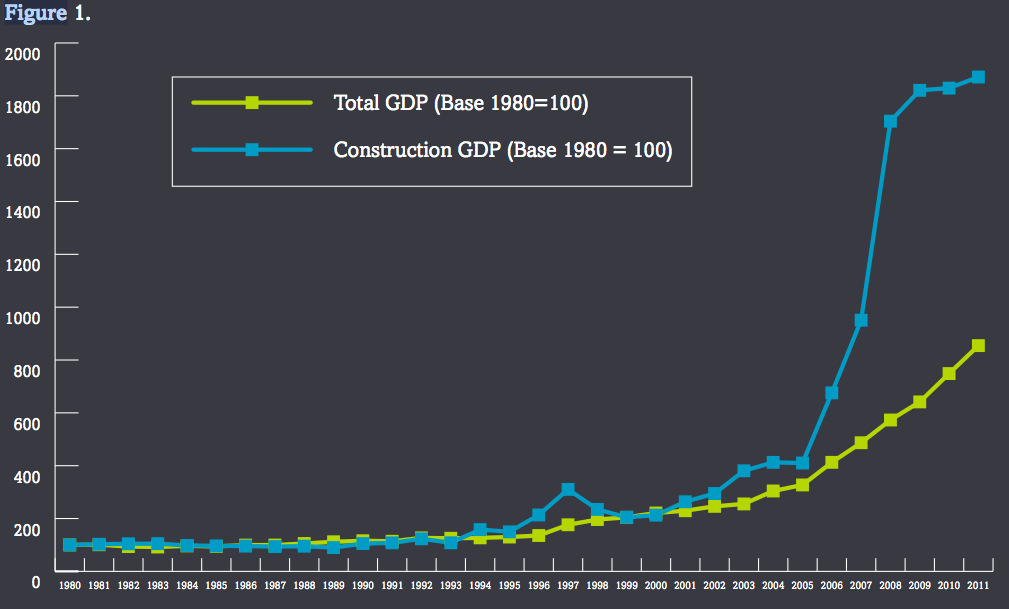 Construction GDP growth already, to 2011 – and it's going to grow even higher. (Credit: EC Harris)
Logistics, materials and labour availability
EC Harris believes the construction materials market could reach $6bn to $9bn over the next two to three years in Qatar, with most of that, other than cement and rebar, having to be imported.
Qatar is investing admirably in air and seaport infrastructure, but EC Harris questioned whether, when crunch comes, it will arrive exactly when it's needed, and in the form it's needed in.
Roads within Qatar and out to Saudi Arabia could become clogged.
The report urged a centrally managed logistics strategy to balance construction vehicles and general traffic to avoid gridlock.
Load spikes could be smoothed with coordinated forward-buying of standard and easy to store material such as aggregate, while local or recycled aggregates, bitumen and scrap metal could ease supply.
Meanwhile, tens of thousands of extra labourers will have to be processed, housed and transported, so the report recommended careful planning of labour camps.
 
Contracts and procurement
To mitigate financial risk, the report suggested the approach taken in procuring and managing the venues for the London 2012 Olympics.
Here, fixed-price lump-sum contracts were avoided in favour of a more open-book approach.
"These can involve the client taking on a greater level of risk," EC Harris said, "albeit without having to pay a premium for the risk transfer."
 
National programme prioritisation and scheduling
Finally, since the World Cup is one of those immoveable deadlines, EC Harris said Qatar should step back and assess what needs to get built and when.
Some major projects may need to be re-scoped or deferred until after the tournament to shift as much construction away from the anticipated peak.
"This activity would require programme planning coordination between all the key public and private developers and a centralisation of decision making related to programme interdependencies and timings," the report said.