A team led by Japanese architect Kengo Kuma & Associates (KKAA) has won a competition to design a visitor centre for Albania's Butrint National Park, a Unesco World Heritage Site.
The centre, which will be on the Ionian coast, will act as a gateway to the park, and will help manage the rising number of tourists visiting it. It will also serve as an educational forum and gathering place for the local community.
The centre consists of a series of limestone roofs above a mass timber and steel structure, inspired by Albania's stone monuments and traditional cross-wood supporting structures beneath stone canopies.
The roofs frame views of the mountains, and an upper gate will overlook an estuary and a lake.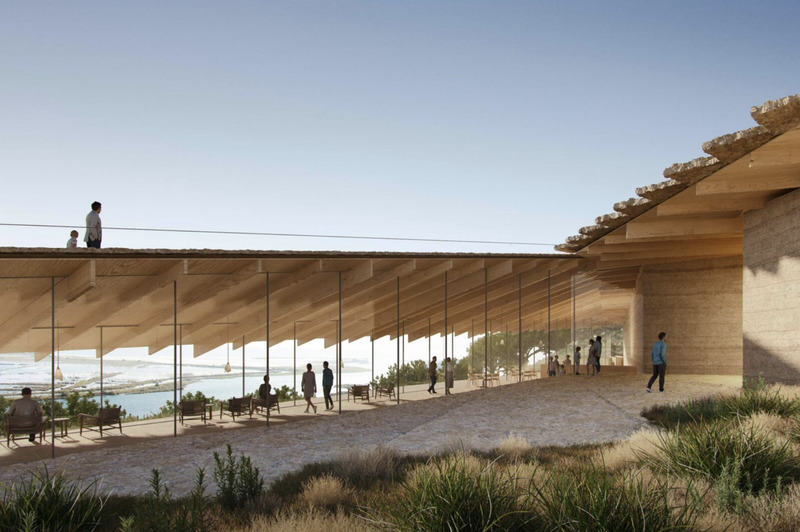 The site has remains from classical Greece and Byzantium through to the Venetian and Ottoman periods.
KKAA is working alongside Albanian partner, CHwB Albania, as well as Ervin Paci, Solaron Albania, iMEPS Engineering & Consulting, YOKE, Esmeralda Agolli and GE-D Engineering.
The group were chosen from a shortlist that included teams headed by architects headquartered in France, Finland and the UK.
The anonymous submissions were judged by a jury of local and international experts, including the Butrint Management Foundation and Malcolm Reading Consultants.
A jury citation commented: "[We were] impressed by the team's evident passion, thoughtfulness and their connection with Albanian culture and memory."
The centre is due to open in September 2025.