Preliminary work has begun on a Kenyan plan to build a $60m cable-car system across the entrance to the port of Mombasa, providing relief to a stretched ferry service.
If built, it will carry commuters from one side to the other of the 500m-wide Likoni Channel in less than three minutes.
The system is to be built by C&C Construction Company, which will be in charge of erecting two 90m masts and building the landing stations. It is working with the Austrian-Swiss cable car specialist Doppelmayr Group, which will provide the cars and ropes.
The operator will be the Likoni Cable Express, a subsidiary of the Kenya Ferry Services, and Tropos, a Nairobi-based "aerial transit development firm". They are developing the project as a public-private partnership and will run it on a 25-year concession.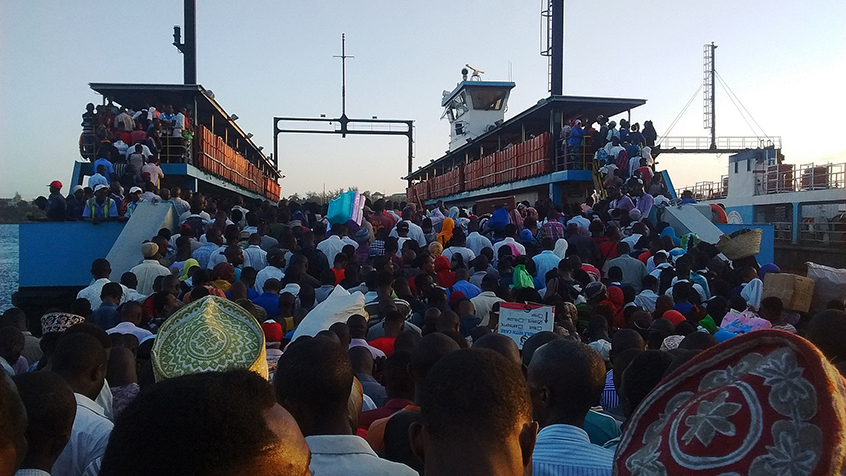 Queuing for a Likoni ferry (Jean Louis/Creative Commons)
Bakari Gowa, the managing director of the Kenya Ferry Service, said last week that pre-construction surveys were being undertaken and the agency was finalising its purchase of the land for the masts. 
He said: "The two major masts will be put on that land. The masts and the landing stations are the major installations in this project and the land where they are to be put must be given a clean bill of health for use."
The plan is to run 22 gondolas, each able to carry 38 passengers. The capacity of the system is to be 180,000 commuters a day.
The aim is to take the pressure off the ferry service, which presently struggles to transport 330,000 people and more than 6,000 vehicles a day in five ferries.
Fears have been expressed over the safety of passengers and vehicles on the boats using the route.
There are plans to build a $790m bridge across the channel, although work on this is not expected to begin until about 2022. 
Image: Tropos' rendering of the Likani cable car service
Edited 10 July 2018 to correct the headline, which erroneously stated that the planned cable car would be sub-Saharan Africa's first. Cape Town's Table Mountain cable car has been running since 1929. Thanks for your comments.
Further reading