The government of South Korea will investigate whether the ongoing construction of a geothermal power plant in the eastern city of Pohang played a role in this month's earthquake, the second biggest on record to hit Korea.
The Ministry of Trade, Industry and Energy said it would assemble an international taskforce of geoengineering experts to determine whether the plant had anything to do with the tremors, which measured 5.4 on the momentum magnitude scale, Korea Times reports. 
At least 82 people were injured in the quake on 15 November, and around 2,500 structures were damaged, including homes, schools, factories and bridges.
Work on the geothermal plant, begun in 2010, will be suspended during the study which is expected to take approximately one year.
As the project involved the injection of water into the ground, the study may have consequences for countries considering hydraulic fracturing, or "fracking", another subterranean activity being investigated for possible links to seismic events. 
In fracking suspicion is focussed on the pressurised injection of liquid into seismically unstable zones. Here the experience of Oklahoma, a centre for fracking, is suggestive of a link. The number of tremors in the state increased above its trend line in 2001 and reached a peak of 188 quakes in 2011.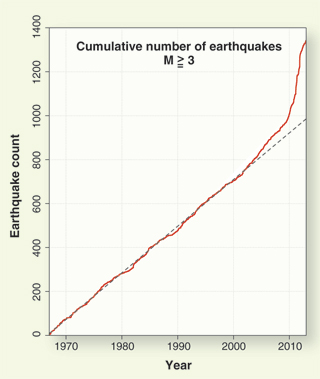 The rise in the US' "mid-continental" quakes began in 2001
Another geothermal project in Basel, Switzerland, is thought to have caused four moment-magnitude-three earthquakes in 2006 and 2007. These small earthquakes led to the abandonment of the project and continuing litigation over compensation.
Over the Pohang quake, before the study has even begun battle lines are being drawn among academics, Korea Times says.
Lee Jin-han, a professor of geology at Korea University, was the first academic to warn about "induced seismicity", in which human activity make the Earth's crust unstable. However, Kim Kwang-hee, a geologist at the Pusan National University, said the plant may have played a part, but not the leading role, in the quake.
While the quake occurred after the injection of water at Pohang, the amount – 12,000 cubic metres – was too little to trigger a quake, according to Hong Tae-kyung, an earth sciences professor at Yonsei University.
Top image: The Pohang earthquake was Korea's second largest since records began (Earthquake Report)
Further Reading: