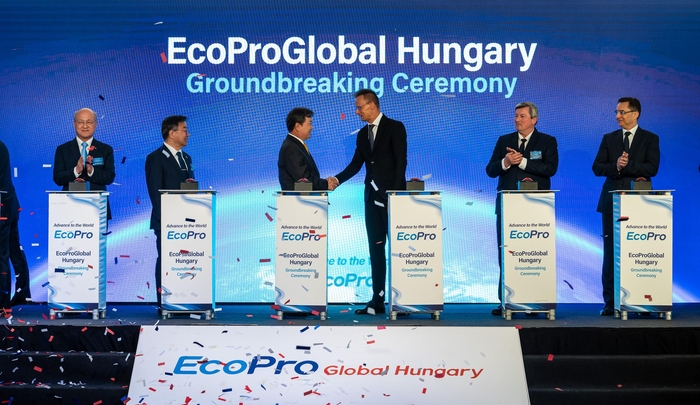 South Korean battery materials firm EcoPro has begun work on a $290m in a Hungarian plant making cathodes for electric vehicle (EV) batteries.
A groundbreaking ceremony was held on Friday in the city of Debrecen, attended by Lee Dong-chae, EcoPro's chairman, and Peter Szijjarto, Hungary's foreign minister, as well as some 100 executives and officials, The Korea Herald reports.
When complete in 2025, the factory will make 108,000 tons of cathodes a year, enough to support the production of about 1.4 million EVs.
The project is also confirming Hungary as a European centre for the burgeoning European EV industry. In 2019, Samsung announced a €1.2bn battery factory in Göd, following earlier investments by South Korean EV battery-makers, Inzi Controls and SK Innovation.
And last year, German auto-maker BMW said it would spend €2bn on a battery factory near its future car factory, which will also be in Debrecen (see further reading).
According to market tracker SNE Research, the global market for the four main components of a lithium-ion battery – cathode, anode, electrolyte and separator – is expected to reach $148bn by 2030.
Competition among South Korean, Chinese and Japanese battery makers, who presently account for 90% of market share, is expected to increase in intensity.