British contractor Laing O'Rourke, which aims to be a world leader in off-site construction techniques, has taken a financial hit for its efforts at innovation – but insists it will keep trying.
The third largest UK builder by turnover says its European operations suffered a loss after tax of £53.1m ($81m) thanks to trouble on three unnamed UK contracts delivered with its bespoke Design for Manufacture and Assembly (DfMA) offsite approach.
Significant lessons have been learned from these projects, all of which were secured during the recession– Laing O'Rourke statement
The contracts were hit by "input cost inflation" and delays, leading to losses of £61.2m ($93.4m), the firm said in announcing its results to the year ending 31 March on 3 September.
But group executive chairman Ray O'Rourke (pictured) said the company would not give up, and that a brand new advanced manufacturing facility to be built in England would "revolutionise house-building in the UK".
Company-wide, Laing O'Rourke recorded profit after tax of £20.1m, down from £41.9m the year before.
But it did well in its "Australia Hub", which includes Hong Kong, with profit after tax rising to £76.5m from last year's £43.5m.The company attributed its success in the Asia-Pacific region to "operational focus and discipline".
The losses in Europe, stemming from first-generation DfMA jobs, were "disappointing", the company said, but lessons had been learned.
"The Europe Hub results were particularly affected by three first-generation DfMA UK construction contracts, adversely impacted by input cost inflation and delays in delivery using new construction methods," Laing O'Rourke stated.
It added: "Significant lessons have been learned from these projects, all of which were secured during the recession."
Laing O'Rourke is unique among the UK's top contractors in having invested substantially in manufacturing facilities to assemble building components off site to reduce time and scope for error on site.
Last September it completed the £340m Leadenhall Building, a 47-storey steel and glass tower in the City of London (nicknamed the Cheesegrater), of which 85% by value was prefabricated off site.
Although the building caused concern when large bolts began falling off the exterior, it became the UK's highest-profile example of what can be achieved using prefabricated construction techniques.
Fixing the bolts has been estimated to cost the steel manufacturer, Severfield, £6m.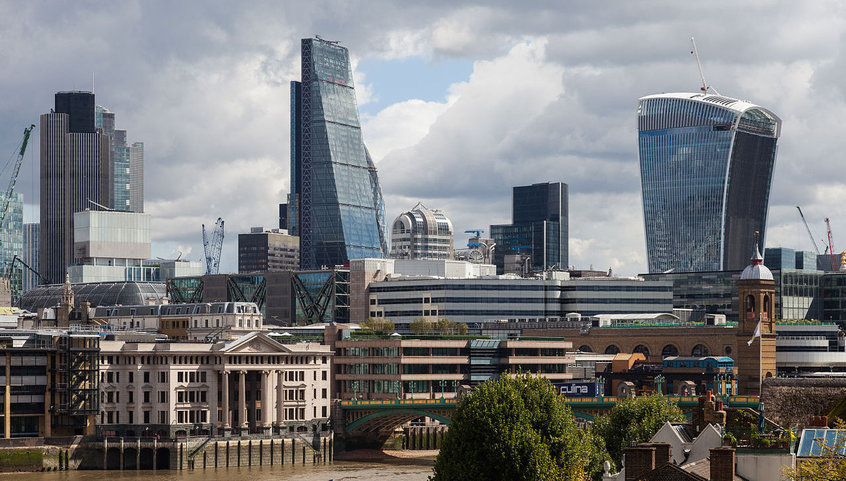 Eighty-five percent by value of London's Leadenhall Building, centre, was prefabricated off site by contractor Laing O'Rourke (Credit: Diego Delso/Wikimedia Commons)
Laing O'Rourke has been an innovator since its sensational birth in 2001 when Ray O'Rourke, owner of a prosperous concrete subcontractor, bought the much larger – but ailing – Laing Construction for just £1.
Since then the company has been known for bucking trends, for instance by bringing all construction sub-disciplines back under direct employment, by recruiting high-level expertise from outside the contracting industry, and by funding research at top universities.
In 2012, Laing O'Rourke made the DfMA approach its core delivery methodology. It has invested more than £100m in prefabrication factories, including at its Explore Industrial Park in Steetley, Nottinghamshire.
Now it plans to invest more.
When the company's results were announced, Ray O'Rourke said that the board had ratified in May this year the final investment decision to build and operate a new advanced manufacturing facility at its Explore Industrial Park.
"The new facility will use intelligent design, precision engineering and fully automated processes to deliver modular solutions that will revolutionise house-building in the UK," O'Rourke said.