A professor of physics in the US has proposed building massive walls in the region known as Tornado Alley to prevent the violent wind-storms that cause so much death and mayhem. 
The walls, tall as skyscrapers and 50m thick, would help stop northbound warm fronts colliding with southbound cold fronts – the fateful clash that gives birth to deadly tornadoes.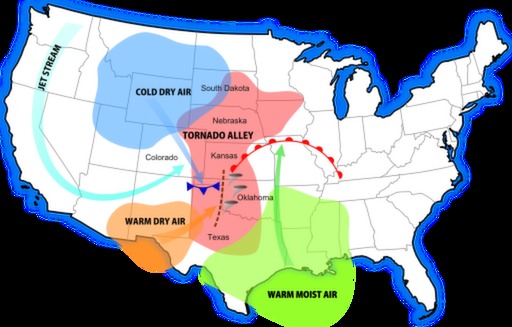 A diagram of Tornado Alley and its contributing weather systems (Wikimedia Commons)
They would cost around $160m per mile to build but the savings, in terms of human lives and billions in property damage prevented, would be worth it, argues Professor Rongjia Tao, of the Department of Physics at Temple University in Philadelphia. 
Tornado Alley is a tornado-prone area running north-south in the middle of the US, encompassing northern Texas, Oklahoma, Kansas, and Nebraska.
The devastation wrought by tornadoes was exemplified in May last year when one struck Moore, Oklahoma, killing 24 people, injuring 377 others, obliterating more than 1,150 homes and causing an estimated $2bn in damages.
An obliterated neighbourhood in Moore, Oklahoma. More than 1,100 building were destroyed by the 2013 tornado (Wikimedia Commons)
When warm air meets cold air in Tornado Alley, violently spinning vortexes form, called supercells. At first these supercells spin horizontally, flat at ground level, but gradually they tilt upwards until they are spinning around a vertical axis. About 30% of supercells intensify sufficiently to become tornadoes. 
Writing this month in the International Journal of Modern Physics B, Tao compares Tornado Alley with the Northern and Eastern China Plains. These have have similar tornado-brewing features but very few violent tornadoes occur there because three east-west mountain ranges, between 300km and 800km in length, keep the warm and cold weather systems from clashing. One of these ranges, the Jiang-Huai Hills, is only 300m high but it still works to reduce the risk of major tornadoes.
The walls proposed would be almost as high as the Chrysler Building in New York (Wikimedia Commons)
In his article Tao argues that if three great walls were built in the American Midwest, the air-mass clashes would be weakened or blocked altogether in Tornado Alley, diminishing the tornado threat once and for all. 
He says the walls should be 300m high (that's just 19m short of New York's Chrysler Building) and 50m in thickness. He would build one in North Dakota, one in Oklahoma and the third straddling south Texas and Louisiana. He said sections could be built first where tornados are most frequent and then gradually extended.
The tornado that struck Moore, Oklahoma in May 2013 (Wikimedia Commons)
He estimated that a mile of such a wall would cost $160m, based on the cost of a 300m-high office tower in Philadelphia, the Comcast Center. If Tao is correct that means a ten-mile stretch of wall would cost $1.6bn, less than the estimated damage caused by the tornado in Moore last year.