Some $96bn of luxury homes are to be built in London over the next decade – assuming enough builders can be found to put them up, according to a report from consultant EC Harris. 
The 2014 Prime Resi report found that there had been a 25% increase in the planned construction of upmarket homes in the UK capital, with a total of 25,000 in the pipeline.
A graph showing units per year 2013/2014
The report adds, however, that more than half of the properties planned in the next five years could fall behind schedule owing to "a lack of available contractors to deliver the required quality of work". Many of the projects may be delayed or even cancelled as a result of the lack of skilled labour.
The South Bank is proving the most popular area of London for development, accounting for around a third of new projects. Chelsea and Fulham and the City are a close second and third.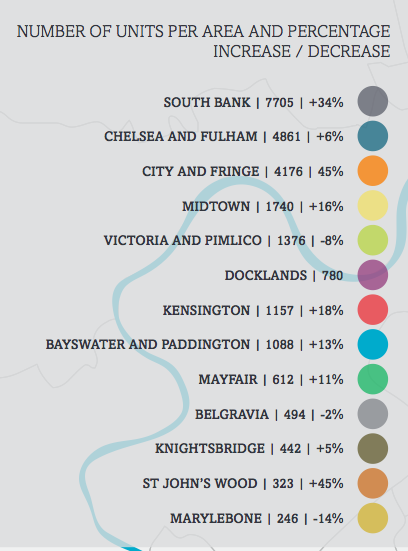 Mark Farmer, EC Harris' head of residential, said: "With the UK economy back on track and London deemed a safe haven for international property investors, it's not surprising that demand for luxury homes is fuelling ever-increasing development. "Where we are starting to observe real problems, though, is in the construction process. There is simply not the capacity out there to meet demand and many projects will undoubtedly fall by the wayside or experience delivery difficulties due to sheer lack of resources. 
"Many developers and investors, when in a position to do so, are therefore looking to jump the queue and are paying premiums for construction so they can deliver on promises they have already made to their purchasers."
EC Harris describes high-end properties as developments with "a sale value of more than £1350 per square foot".
London is currently thought to be the most expensive place to live and work in the world.