Gibraltar-based gaming company BetVictor has imagined what Las Vegas would have looked like if four never-built casinos had made it to site.
The "Welcome to Viva Lost Vegas" project superimposes four extravagant casino schemes on the locations they were to have occupied.
They are:
Desert Kingdom: This $750m theme park, hotel and casino resort was to have offered boat rides on a stream flowing under the casino and onto a lagoon for night-time water shows. The plans were ditched after the hotel chain bought Caesars Palace and put its money into upgrading that.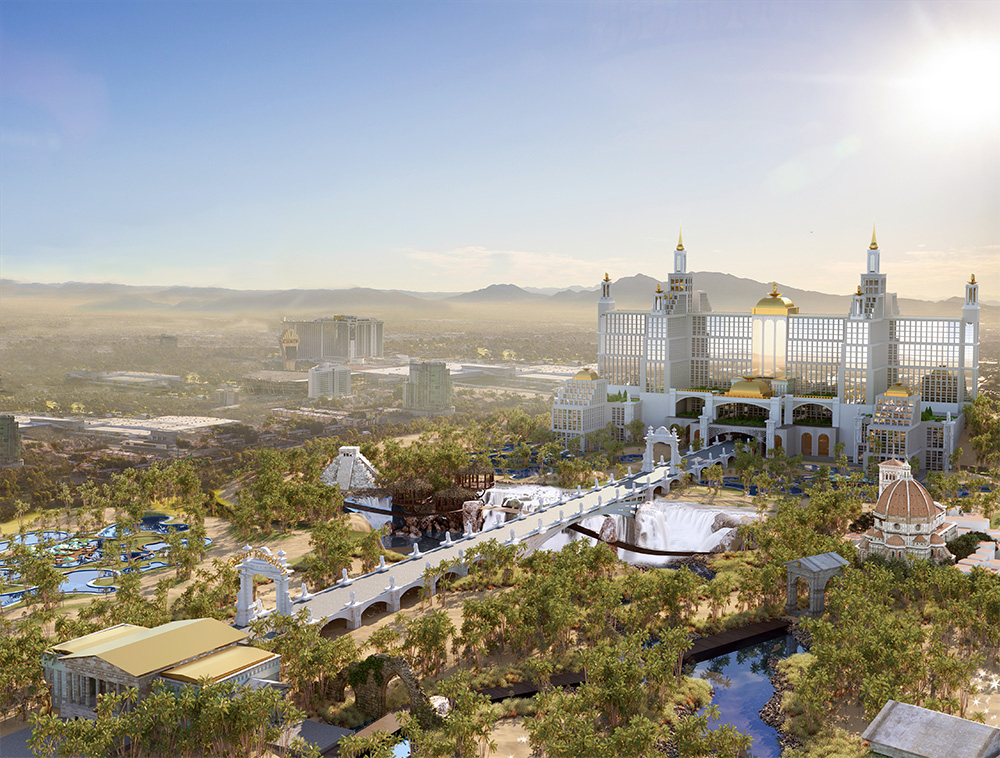 Gary Goddard's design for the Desert Kingdom
The Titanic: A $1.2bn project that was to have rebuilt the well-known liner as a 400ft-long casino, zoo and "Icebreaker" nightclub. Next to it would have been the iceberg that sank it, fitted with 1,200 hotel rooms. It was called off in 1999.
The half-scale Titanic and iceberg, bottom right
London Resort & Casino: Las Vegas already has pastiche versions of Paris, Venice, New York, Lake Como and Ancient Rome. If a 2019 project had gone ahead, they would have been joined by a 535ft-high replica of the Houses of Parliament, alongside Tower Bridge and a "Skyvue" wheel inspired by the London Eye. There would also have been 550,000 sq ft of retail and restaurant space, including a Harrod's department store, Tower Bridge and Piccadilly Circus.
London in the desert …
Xanadu: Pictured top, this $150m casino was proposed in the 1970s as a striking 23-storey brutalist prism on land now occupied by the Excalibur Hotel & Casino, next to the Luxor Casino. If it had gone ahead, it would have been one of the first themed resorts, and one of the biggest on the Strip, with 1,700 hotel rooms. In the event, the project was cancelled because the city's sewer lines were unable to cope with the project.
Turlough Lally, BetVictor's director of E-Gaming, told GCR: "Las Vegas has always been a hotbed for entertainment, from a spin on the slots to the extravagant buildings that line the Strip. We love that the city offers hospitality like nowhere else on earth. So much so, we decided to explore further and delve into the casino resorts that were too ambitious even for America's Playground."
Top image: Xanadu casino, designed by Californian architect Martin Stern in characteristic 1970s style. All pictures courtesy of BetVictor