The Japan Transport Safety Board has decided that the appearance of a 14cm crack in the undercarriage of a speeding shinkansen bullet train was "serious" – the first time it has made such a determination in the 53 years since the service began.
The railway operator has "deeply apologised" for a betrayal of trust.
The finding prompted an immediate survey of all the country's shinkansen trains, and railway engineers recommended fitting sensors to the trains to alert staff to any loss of structural integrity.
The crack appeared on a train making the five-hour journey between Hakata, in the southern prefecture of Fukuoka, and Tokyo on 11 December.
When the Nozomi No 34, an N700-series shinkansen, was at its first stop in Kokura, a member of the cabin crew noticed an unusual smell in the fourth carriage, which he reported to the conductor. Arrangements were made for a maintenance person to board the train at Okayama, the next stop. He noticed abnormal sounds and recommended an inspection at the next stop.
Engineers also discussed the matter with the Shinkansen General Control Centre in Tokyo, but agreed there was no immediate danger, and that the journey should continue.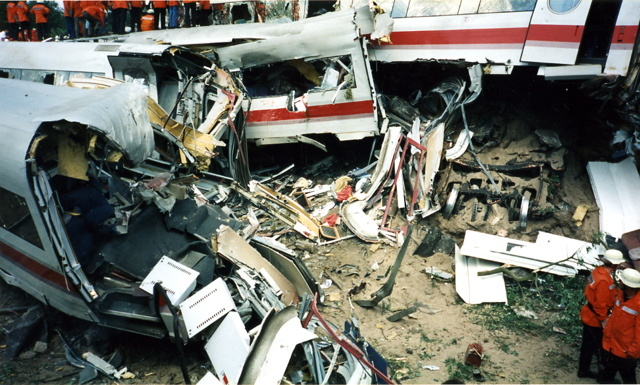 The aftermath of the Eschede derailment, the worst high-speed rail crash in history (Nils Fretwurst/Creative Commons)
The train then ran for three hours at its normal operating speed of around 320km/h until it was halted at Nagoya Station and workers checked underfloor sections at the next stop, Nagoya Station.
They found that oil was leaking around a "tsugite" joint that transfers the rotations of the motor to the wheels. Some 1,000 passengers were then taken to Tokyo on other trains.
It was not until a more detailed inspection was made that the 14cm crack in the 17cm frame was discovered.
The Nikkei Asian Review quotes Kazuhiko Nagase, a professor of railway engineering at the Kanazawa Institute of Technology, as saying: "The crack was bigger than we can possibly imagine."
If it had lead to a failure of the carriage's frame, the train could have suffered a high-speed derailment with severe loss of life.
High-speed derailments in the past have led to high mortality rates: the 1998 Eschede derailment in Lower Saxony, which was also caused by a fatigue crack, led to 101 deaths and 100 injuries; the 2013 Santiago de Compostela derailment in Spain killed 79 passengers and crew and injured 140 of the 222 people on board.
On Wednesday, Tatsuo Kijima, president of JR West, issued a statement saying the operator "deeply apologised" for betrayed the public's trust in the safety of the shinkansen.
According to the Nikkei, The carriage was made in 2007 by Kawasaki Heavy Industries and the steel for the chassis was supplied by JFE Steel.
Top image: A N7000 series shinkansen in action (Mitsuki/Creative Commons)
Further reading: