Mace announced 8 February that it had reached practical completion on Fairmont The Palm hotel on the Palm Jumeirah Island in Dubai.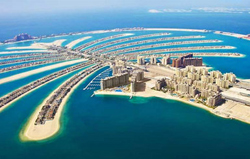 The five star beach-front resort (pictured left) is owned by international developer IFA Hotels & Resorts and is located on the trunk of the Palm Jumeirah Island. It is costed at approximately US$310m.
The project team consisted of 17 multi-disciplined local and US consultants and Mace managed the project team and coordinated the works packages.
Mace senior project manager on the hotel, Hesham Hamdan, said: "Fairmont The Palm hotel has been quite a complex project for its size. The original design needed to be revalidated and enhanced with current industry and local standards. The project endured the rapid growth of Dubai's economy when commodities and construction costs were at a peak, followed by the sudden uncertainties associated with the economic downturn. It is a great achievement to see another five star hotel in Mace's portfolio."