China's MAD Architects has renovated an abandoned lookout tunnel in the western Japanese prefecture of Niigata into an art project as part of the 2018 Echigo-Tsumari Triennale.
The 750m long Kiyotsu Gorge Tunnel has been remodeled to take the forms of the "five elements of nature":
Wood: Before approaching the tunnel, visitors can stop off at a wooden hut containing a café and souvenir shop, and on the upper floor a circular aperture called a periscope acts as a skylight above a hot spring foot spa.
Earth: Coloured lights and "mysterious music" set the scene for each vantage point throughout the tunnel.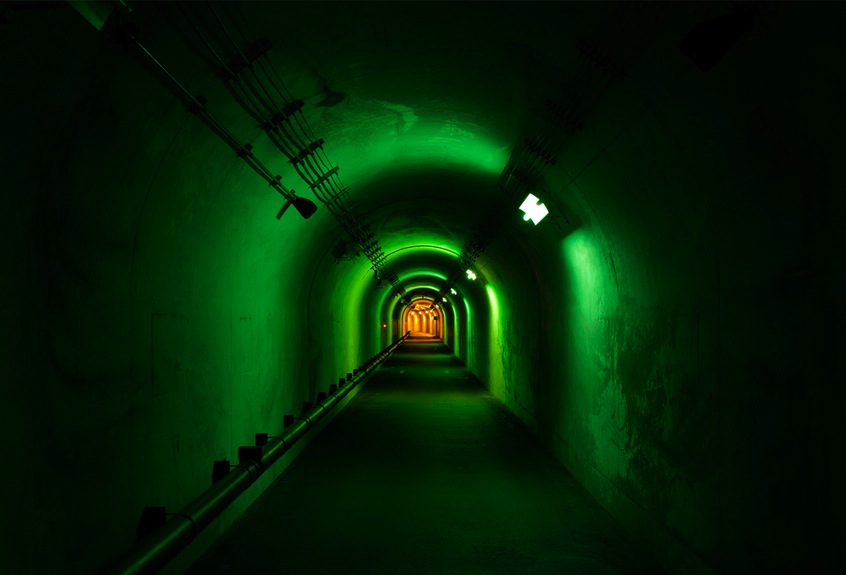 Metal: A toilet called the "invisible bubble" allows users to view their surroundings, and maybe other members of the public, through a one-way mirror.
Fire: Designed to appear like dew drops, reflective metallic spots are hung from the ceiling.
Water: At the end of the tunnel is the "light cave", where polished steel reflects the view of the gorge, and visitors can look out over the terrain while in a shallow pool of water.
MAD says the designs "rethink the relationship between humans and nature" and reconnect "locals and visitors alike with the majestic beauty of the land".
Images courtesy of MAD Architects