China's infrastructure diplomacy in Malaysia took a hit today when its government declared that the East Coast Rail Link (ECRL), which is being funded and built by Chinese entities, can only be viable with a "drastic" price reduction by the Chinese contractor involved.
Malaysian Finance Minister Lim Guan Eng said the project's final estimated cost had risen to $20bn (Ringgit 81bn), which is around 50% higher than that estimated by the previous government of Prime Minister Najib Razak, and includes land acquisition, interest, fees and other operational costs.
The tough statement today continues the clean-sweep of Malaysia's new Prime Minister Mahathir Mohamad, who defeated Najib in the country's election on 9 May, and afterward launched a corruption probe into alleged theft and money-laundering at the 1MDB state investment fund.
Barred after the election from leaving the country, Najib was arrested today as part of that probe, and is expected to be charged tomorrow.
Billed as a flagship scheme under China's Belt and Road Initiative, the 688km ECRL is intended to connect Malaysia's west coast to rural northeastern states. Twenty-three stations were planned, starting at Port Klang on the west coast of peninsular Malaysia, near Kuala Lumpur, and ending at Kelantan in the northeast, near the Thai border.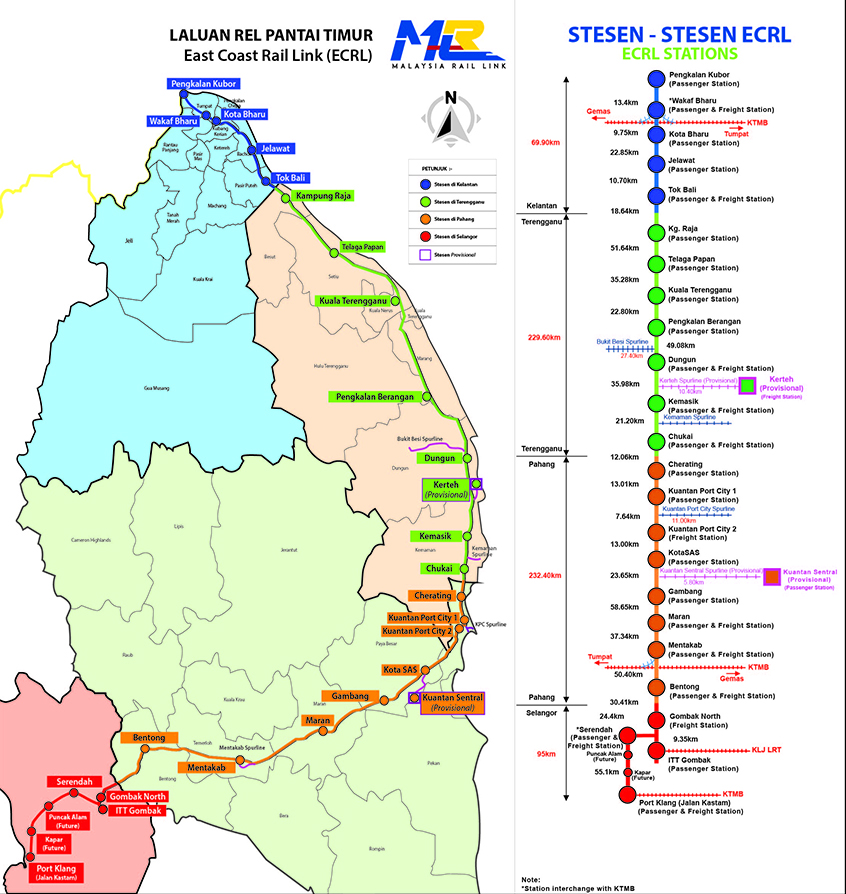 The proposed alignment of the $20bn, Chinese-funded East Coast Rail Link (Malaysia Rail Link)
It was to be financed largely by China, and the main contract for construction was awarded without tender in 2016 to Hong Kong-listed China Communications Construction Company (CCCC).
"We expect that the ECRL project will only become financially and economically feasible if there is a drastic price reduction of the project by the CCCC. Discussions on cost will be held with the contracting parties and others involved in the project," Lim said in a statement, reports the Associated Press.
Concerned about the country's surging debts, last month Mahathir scrapped the $27.6bn scheme to build a high-speed railway between Kuala Lumpur and Singapore, and placed the ECRL project under fresh scrutiny.
Soon after, finance minister Lim said it was too late to cancel the ECRL because Malaysia had already paid CCCC 20 billion ringgit ($5bn), but today's statement signals that the government is prepared to explore a harder line as it peers into the infrastructure deals brokered by the Najib administration.
Lim said the Malaysian government has given CCCC 10 billion ringgit ($2.5bn) in advance payment and 9.67bn ringgit ($2.4bn) as a progress payment.
Modifying his earlier "too late" position, he said the advance payment can be recovered in a "worst case scenario" if the project is withdrawn.
Mahathir Mohamad rode to a surprise election victory in May over Najib's coalition with pledges including one to scrutinise Chinese influence in the Malaysian economy.
The unexpected cancellation of the Singapore high-speed rail scheme was needed to "avoid bankruptcy", he said.
Image: The proposed alignment of the $20bn, Chinese-funded East Coast Rail Link (Malaysia Rail Link)