A major new Chinese-funded railway in Malaysia, initiated by a former prime minister who was later convicted of corruption and then suspended by his successor before being reinstated at reduced cost and scope, has seen a partial restoration of its original plan under Malaysia's third prime minister in four years.
On Monday, Malaysian Transport Minister Wee Ka Siong said the East Coast Rail Link (ECRL), a flagship project of China's Belt and Road Initiative, would now cost $12.1bn (50 million ringgits) after its length was increased to 665km and its northern alignment was restored to that first proposed under Prime Minister Najib Razak (pictured), who oversaw the original deal with China Communications Construction Company (CCCC) in 2016. 
Dubbed "ECRL 3.0", the latest version increases the length of the line from 640km, which was the shortened length negotiated under Najib Razak's successor, Mahathir Mohamad, and raises its cost from the $10.63bn (44 billion ringgit) that Mahathir Mohamad also negotiated downward after his election in 2018.
The original plan was for a 688km railway costing $13.31bn (55 million ringgits), which Mahathir Mohamad attacked as excessive, with his ministers claiming that the total cost actually amounted to $20bn.
Mahathir Mohamad suspended work on the line in 2018, demanding a "drastic" price reduction, before accepting the slimmed-down version in 2019.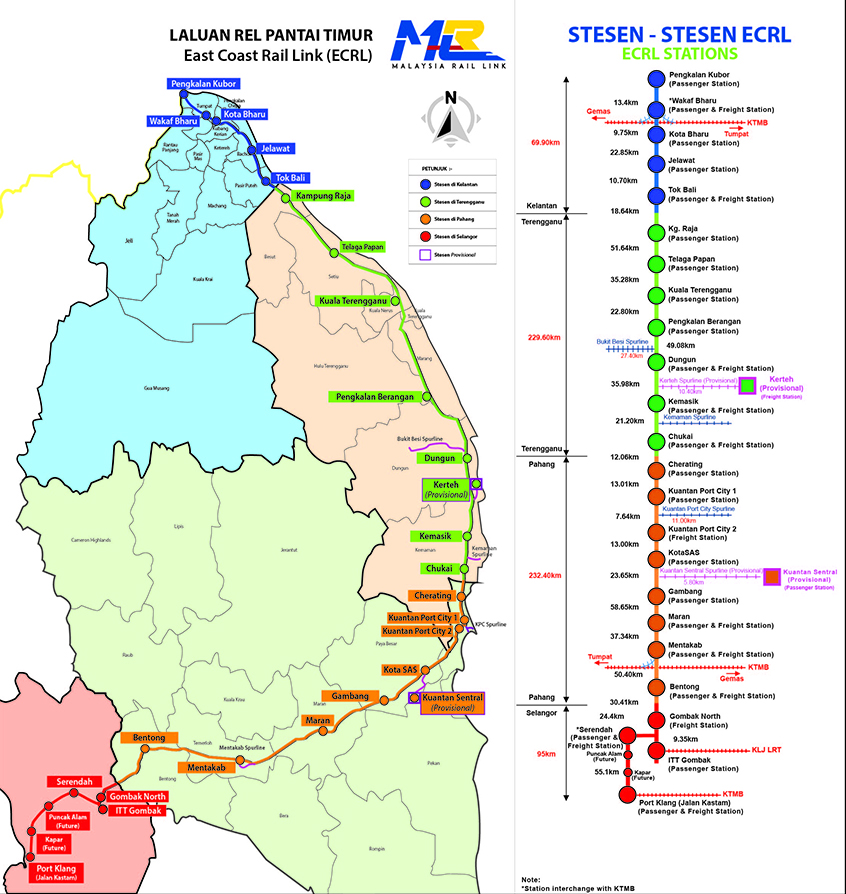 The proposed alignment of the original Chinese-funded East Coast Rail Link (Malaysia Rail Link)
ECRL 3.0 has been negotiated by the government of Prime Minister Muhyiddin Yassin, who assumed office in March 2020 after Mahathir Mohamad's coalition fell apart.
ECRL is intended to connect peninsular Malaysia's west coast near Kuala Lumpur to rural northeastern states bordering Thailand, cutting the travel time between the two termini from a 12-hour drive to a four-hour train ride.
Transport Minister Wee said ECRL 3.0, which contains other route realignments, was an improved version that would have social and business benefits.
"As from cost perspective, the implementation of cost of the ECRL's northern alignment, despite following the original alignment approved in 2017, will still involve a lower estimated estimated construction cost, as compared to the original construction cost for phase one and phase two, during the launch of the ECRL in 2017," he told a press conference Monday, reports newspaper Malay Mail.
In July 2020, Malaysia's High Court convicted Najib Razak on seven counts of abuse of power, money laundering and criminal breach of trust and sentenced him to 12 years in prison. He is appealing the ruling.
Top image: Former Prime Minister Najib Razak oversaw the original ECRL deal with China Communications Construction Company in 2016 (©World Economic Forum/By Michael Wuertenberg/CC BY-SA 2.0)