A Mexican company has developed a "jigsaw" brick that, it says, can halve the time required to build a wall.
Armed Omega says its "Block Armo" system can be assembled without using mortar. Rather, they are fitted together like pieces in a puzzle.
There are six shapes of block, each of which has a cylindrical internal space. Once a wall has been completed, steel rods are inserted into them every 80cm, followed by poured concrete. The result is a hybrid of traditional brick and reinforced concrete that can reproduce the decorative features of traditional brickwork.
The company has produced a video that illustrates how the system can be used to build a 25 square metre room in two hours.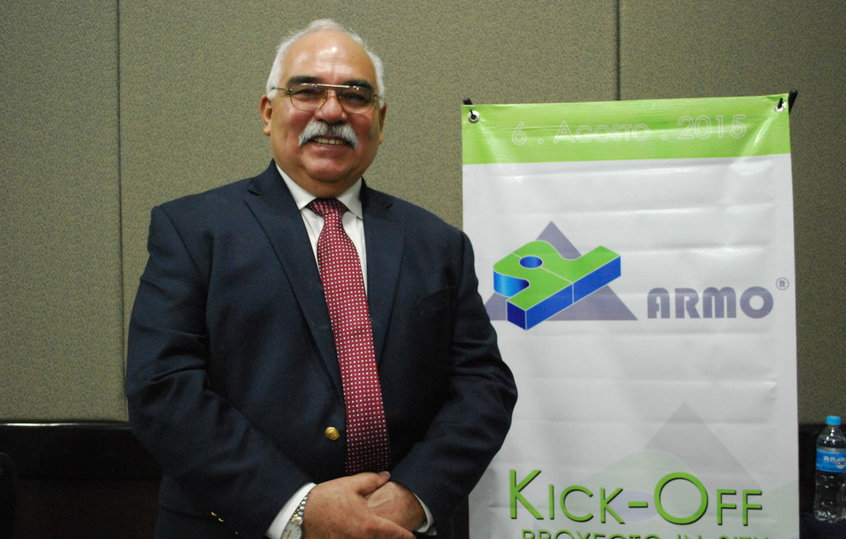 Jorge Capistran, architect who invented the jigsaw blocks (picture courtesy of TechBA)
It points out that the blocks' internal spaces can be used to fit mechanical, electrical and plumbing services.
As well as cutting construction time, the company says it reduces cost by 25%. One advantage of the system is that, as the blocks can be fitted together only one way, they can be assembled by relatively unskilled labour.
Armed Omega, which is based in the town of Puebla, 140km to the east of Mexico City, first announced its invention at the end of last year as an entry in Mexico's National Entrepreneur Week.
It was designed by Jorge Capistrán (pictured), the founder and chief executive of Armed Omega, and is intended to make it easier to build high quality social housing.
Capistrán told the TechBA website that the system had been validated by Stanford University and the bricklayers' union leader of California.
Five of the six available types of block (Armed Omega)
He added that this system was based upon "the principles of the geometry of the golden section, which allows change dimensions without losing its proportion".
Image: How the bricks fit together (picture courtesy of National Council of Science and Technology)
Further Reading: