The National Tourism Development Fund (Fonatur) announced the winner of the fifth section of its Mayan Railway on Friday.
A consortium led by Mexico's Compañía Constructora (Coconsa) and Spanish contractor Acciona were awarded the tender after they entered a bid that priced the work at $870m.
Section 5 will run along the Caribbean coast, from Tulum north to Playa del Carmen (pictured).
Coconsa, founded in 1980, is an infrastructure specialist with a track record of road and water projects in the domestic market.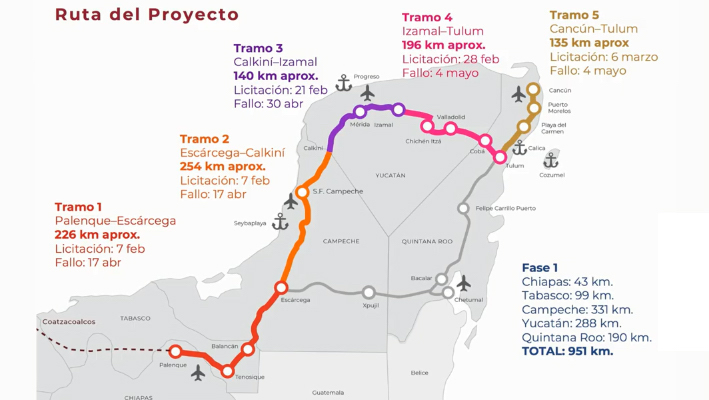 The Mexican government's map of the Mayan railway
Fonatur commented in a press release that the consortium "has the technical experience required to carry out a work of this magnitude, which includes railway and road infrastructure works, drainage, dirt roads, wildlife crossings, as well as electrification works for the double track, among others".
Fonatur also announced the opening of bids for "Section 5 North", which will take the line north to its terminus at the resort of Cancún. So far, 10 proposals have been made, and a winner is expected to be named on 10 February.
The entire Tren Maya network is being divided into five packages with a total length of about 1,500km and a total cost of $7.4bn, making it the largest publicly funded infrastructure project in recent Latin American history.
Top image: Playa del Carmen is located on the "Riviera Maya", which runs from south of Cancún to Tulum (Elelicht/CC BY-SA 4.0)
Further reading: