Bottles, eggs, banana skins and even urine are being hurled at road maintenance crews by angry drivers in Scotland, and their employers are calling for a degree of civilisation.
So bad is the road rage that motorists asked to wait even a few minutes regularly invade safe zones, putting workers' lives at risk, surveys have revealed.
More than 85% of road workers in the north of Scotland have experienced dangerous driver behaviour when working on roads in the last year, one poll of workers found.
Conducted by BEAR Scotland, a Balfour Beatty-led company that maintains trunk roads, the survey found that almost one in three workers had bottles, rubbish, foam bullets and even bottles of urine thrown at them by passing road users.
That figure rose to 43% in a survey by another maintenance group, Scotland TranServ.
The companies have launched a campaign with Transport Scotland to speak up for workers and fight back against abusive and downright dangerous behaviour.
According the to the BEAR Scotland survey, in the last year:
86% of workers surveyed experienced road users ignoring red lights;
73% experienced motorists invading coned-off safe zones;
75% received verbal abuse, with reports of physical threats;
Almost 30% had missiles thrown at them, with reports including urine and dirty diapers.
Dale Barron, a 10-year veteran chargehand for BEAR Scotland, had the machinery he was operating hit by a lorry invading a safe zone last year.
"A lorry entered the works area and shunted the side of my vehicle, breaking off the mirror and throwing it forwards, then – remarkably – kept on driving," he said.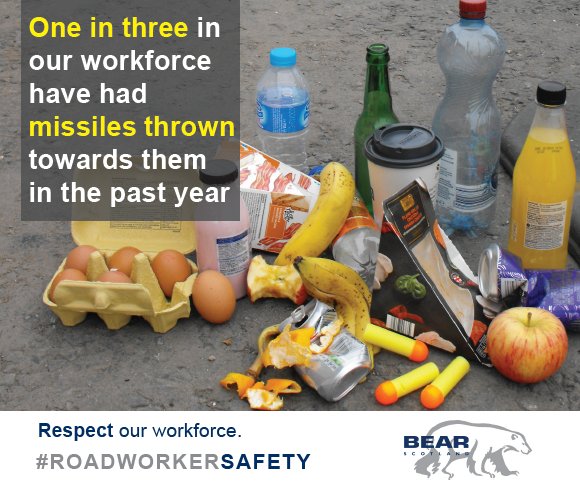 Not lethal, but not nice: missiles hurled at workers (BEAR Scotland)
"Thankfully no one was injured. If one of the guys had been walking past the digger when the lorry came into the site, he would have been hit. That sort of thing doesn't leave you, it's in the back of my mind every time I'm out on site."
Graduate engineer Calum Farquharson said the verbal abuse and dangerous behaviour go hand in hand.
"We get people shouting things, swearing at us, blasting their horns, hand gestures…you end up just getting used to it," he said.
"People jump red lights every single time I'm out on site," he added. "I've seen drivers accelerate to the lights when they see them switch to amber, speeding past a 30mph sign first, then past a 10mph sign, then straight through the red light.
"So frequently you'll get drivers entering the 10mph works area at over 50mph because they're accelerating to try and catch up.
"Once one of our operatives was moving a cone within the work zone and he had to throw himself onto the verge to miss a speeding driver who had jumped the light – all so the driver could avoid waiting five minutes."
Drivers are fickle in their affections, noted Eddie Ross, who covers the northwest of Scotland for the company.
"Ironically, our team during the winter are, quite rightly, considered to be winter heroes for keeping roads safe during snow conditions. At other times, when they are trying to keep roads safe by repairing them, they are subjected to abuse."
The two-week campaign uses the social media tag #RoadworkerSafety.
Top image courtesy of Dreamstime