Two architectural practices, HHF from Switzerland and Sadar + Vuga from Slovenia, have produced a plan to complete Montenegro's "Home of Revolution", a building project that was begun in 1978.
The building was to have been a memorial to the "fallen fighters for freedom and the socialist revolution" in Niksic, Montenegro's second city.
Work on the project began on the 30th anniversary of the country's liberation from Axis occupation, to a design by Slovenian architect Marko Music, however construction was suspended 11 years later, leaving only the building's shell.
According to Music's website, the original brief stipulated that the building's surface area should measure 7,230 square metres. However, during the design process, the surface area tripled to 21,730.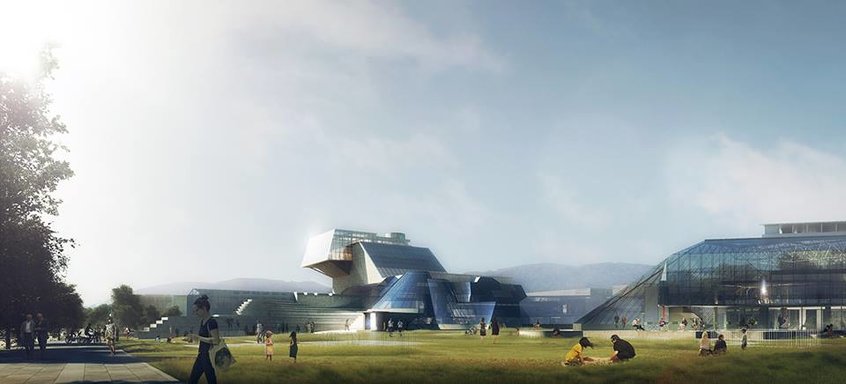 The Ministry of Sustainable Development and Tourism's "Competition for the Adaptation and Reconstruction for the Home of Revolution" is an opportunity to "transform the existing building, and Niksic itself".
The winning plan was to take the existing structure and, with minimal intervention, insert a new type of urban space within it.
With the introduction of a large underground parking, Dom will "become an urban infrastructure making it a gateway into the city". According to the designers, it will allows the old city to be pedestrianised.
The team have called their plan a "10/20/70" strategy.
The 10% refers to spaces that will be acclimatised and have defined functions as cafes, offices, gallery spaces and educational workshops.
The 20% refers to the promenades that cut the building north to south and east to west.
The 70% are those spaces that are secured, but not renovated. These would not be used on a daily basis, but could be made available for use on special occasions.
HHF Architects said: "The project was intended to be an architectural hybrid that would represent the socio-political structure of Niksic."
Images via Sadar + Vuga