23 October 2013
Claims that recent floods in North India were worsened by hydropower plants have been confirmed by the Asian Development Bank which has found substantial associated hydrological and geological risks.
In June this year, freak floods in Uttarakhand, northern India, caused over 1,000 deaths and left thousands more stranded.
Some believe hydropower plants exacerbated the flooding because the construction process had eroded riverbanks which are then unable to hold their structure during the intense flooding.
A report by the bank has given support to this view, saying hydropower development put "stresses on the roads and other infrastructure as well as on the fragile Himalayan ecosystems."
Andrew Jeffries, a senior ADB energy specialist, told Responding to Climate Change news site: "If you dump muck in the wrong places it can be dire."
'Muck' is rock and debris created by tunnelling during the construction of hydropower projects and a dominant force in aggravating the floods, in Jeffries' opinion.
"Rock and debris flowing quickly along with the water as opposed to just water… the potential for damage is higher," he noted.
The flooding also caused severe damage to six hydropower plants, of which four were operational, wrote the Indian Express.
Northern India already has over 50 hydropower plants with a combined capacity of 33,000MW, according to figures from the Central Electric Authority.
And there are plans for 95 more to be built as part of India's ministry of energy's plan for 15,000MW to be installed near the Himalayas by 2017.
"This prospect is alarming when many similar projects are coming up in Arunachal Pradesh and other parts of northeast India," commented Richard Kamei, a blogger at the Indian political website Kafila.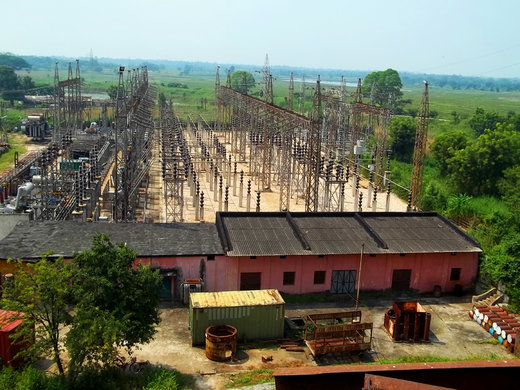 The Chipilima Hydro Electric Project in Sambalpur, Orissa, India. (Subhasisa Panigahi/Wikimedia Commons)
These areas suffered heaving flooding in May and, since experts agree intense flooding will occur more regularly due to the effects of climate change, he's not the only one concerned.
Ghuman Singh, convener of Indian charity Himalaya Niti Abhiyan, explained: "During the last few years, the river course has narrowed due to dumping of muck generated by hydropower projects. During flood-like situations, gushing water and muck can cause extensive damage to population downstream."
The poor construction and locations of current hydropower projects in Uttarakhand has also raised questions over India's planning regulations.
Kamei noted that in six years, none of the plans for 162 hydropower plants in northern India were rejected by authorities, despite apparent regulations in place.
Not only that: a recent World Bank study in the area identified shortcomings in the planning and coordination of hydropower development, according to the ABD.
Clearly, something needs to be done about all this, if only because a quarter of northern India's installed power generation capacity comes from hydroplants and that figure will just keep on increasing.
As governments work out how to tap into the vast potential power of mountain rivers, a careful balancing act is needed between providing power to communities and protecting the environment.
The Centre for Science and Environment (CSE) in Delhi has a few suggestions.
"Uttarakhand and other states must utilise their hydropower potential in an ecologically sustainable manner," said Chandra Bhushan, the CSE deputy director general.
Research here found that the 'small hydropower' sector – plants under 25MW – exerts significant impact on the environment.
Bushan asks for standards and safeguards to be established to "bring the much-needed balance between environment and development."
Uttarakhand has already made a start on this responsibility.
Chief minister Vijay Bahuguna recently told The Hindustan Times: "We are doing an environment impact study of every river, so that we have a ready data base about the environment condition."
Source: rtcc