A triangular-shaped building in the centre of Tirana, which has previously functioned as the museum of Enver Hoxha, Albania's communist leader, a Nato office, an event space and a nightclub, is to be transformed into a centre for technology, art and culture.
The plan, drawn up by Dutch architect MVRDV, is to turn the 11,800 sq m building into an education centre for young Albanians.
The ground level of the "Pyramid of Tirana" will be open on all sides, with the design "transforming the current darkened atrium into a light-filled and attractive space" filled with greenery.
The concrete beams on the outside of the structure will be used for sightseeing and temporary events and will also be populated with what MVRDV describes as "pop-up structures of sorts, such as pavilions, platforms and settlements".
MVRDV aims to build on the current informal use of the building by young citizens of Tirana, who use its roof as a place to congregate.
Winy Maas, MVRDV co-founder, said: "Though in the past, there were plans to transform this monumental building into a national theatre, this never materialised, which left this fantastic building in ruin for more than a decade.
"The Pyramid of Tirana will rise again by becoming a new centre of technology and learning for young people.
"It is a symbol for many Albanians. For the older generation, it is a memory to the cultural events during communist times, for the recent generation it became the place to celebrate the new era.
"We will make the beams accessible and safe so that we can all climb to the top and celebrate the structure, with views of the city of Tirana. We create an inhabited monument."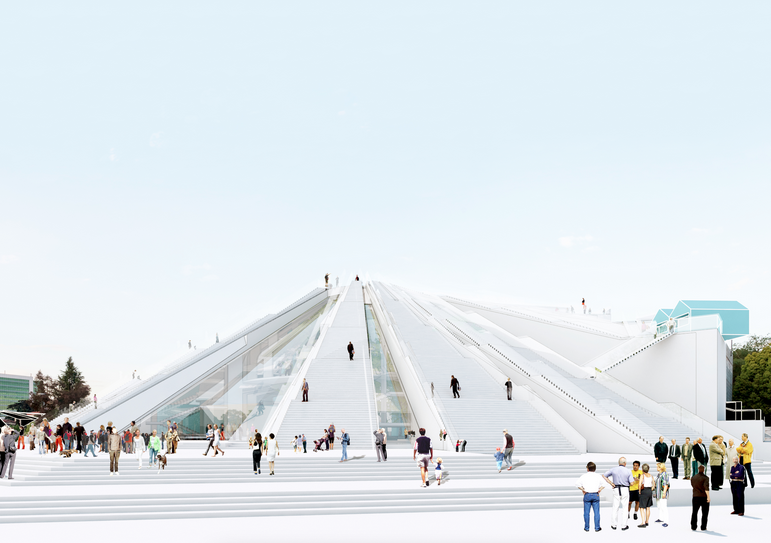 The new building will be run by Tumo, a learning programme where teenagers are in charge of their own technology and design education.
MVRDV has collaborated on the design with the Municipality of Tirana. The project is due be completed in June 2019.
Images courtesy of MVRDV