Dan Levy, the president of real estate company CityRealty, was on a skiing holiday when he realised that New York City needed a new form of transport.
As an alternative to commuters cramming themselves into overcrowded and overpriced subway carriages or facing the midmorning traffic in cars or buses, he came up with a new solution: the gondola.
The project originally aroused skepticism, but with the news that much of New York's L Train may be shut for more than a year, it now seems like a more serious alternative.
If New York were to build a link, it would be following the lead of a number of Latin American metropolises.
La Paz in Bolivia and Rio de Janeiro in Brazil have built gondola systems, and Mexico City is considering an ambitious city-wide scheme.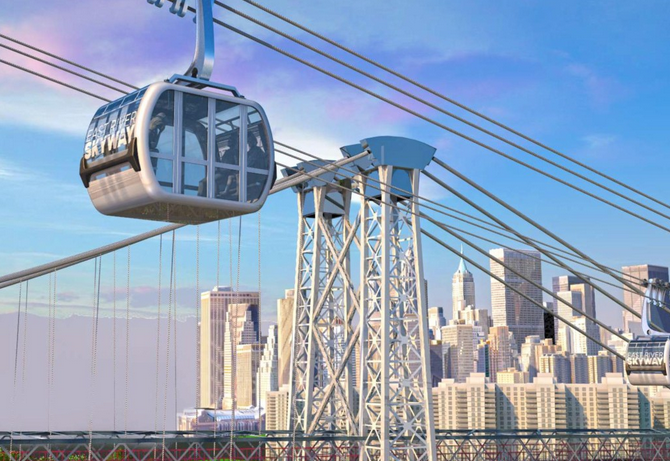 According to its backers, the East River Skyway would connect Manhattan, Brooklyn and Queens and could be built in as little as 18 months.
It could carry 5,000 people an hour in each direction and would reduce a 15 minute journey from Manhattan's East Village to south Williamsburg to 5 minutes.
Levy predicts that the development will be privately funded and estimates that the cost of each of the proposed lines would be between $75m and $100m.

A map of the proposed lines
New York currently has a gondola system, the 940m Roosevelt Island Tramway, which runs from Manhattan's Upper East Side to Roosevelt Island.
You can voice your support for the project here.
Images via East River Skyway