As the year draws to a close, we've looked at what captured readers' attention most in 2017, and it seems to be chills, spills and not many thrills.
Here are the 10 most viewed stories, ordered by date.
The Grand Ethiopian Renaissance Dam, under construction on the Blue Nile, will be the largest hydroelectric power plant in Africa (http://www.geosociety.org/)
Ethiopia's GERD dam will make Egypt's Nile delta sink under the Med, study says
27 March – Prompting many angry comments, this article reported a study published by the Geological Society of America that warned that the controversial Grand Ethiopian Renaissance Dam (GERD) on the Blue Nile could reduce the flow of water-borne silt onto Egypt's coastal delta, hastening its ongoing submersion under the sea.
Tensions over the hydroelectric dam between Egypt and Ethiopia, which is backed by Sudan, continued throughout the year, with the Arab League expressing "extreme concern" over water shortages in Egypt after tripartite technical talks broke down. The Ethiopian prime minister is due to visit Egypt for talks.
• • •
A capture from the video of the collapse (YouTube)
Dubai port crane collapse injures 10
9 May – The collapse of a giant gantry crane at the Jebel Ali container port terminal in Dubai left nine people with minor injuries and one with "moderate" injuries, according to port operator DP World. A video clip of the accident shows the crane crashing down just feet from a building and people running from it in panic seconds after impact.
• • •
Cabins for the project to build London's Thames Tideway Tunnel go under Tower Bridge as construction on the £4.2bn, 25-km tunnel begins in 2017 (Tideway)
Jacobs "in advanced talks" to buy CH2M in targeted UK expansion
24 July – US engineering giant Jacobs was reported to be in advanced talks to acquire its smaller rival CH2M. If the rumour was true, such a deal would give Jacobs access to some of the UK's biggest infrastructure projects. It was true, and in December CH2M shareholders voted 96% in favour of the deal, creating a new, $15bn company.
• • •
Bombardier sold two 76-passenger Q400 turboprop airliners to Tanzania in July 2016 (Bombardier)
Tanzania seeks "fugitive" UK contractor it says fled with millions
22 September – Perhaps because of its unprecedented infrastructure push, Tanzania this year captured headlines with a series of vivid spats with international contractors over payment.
Things kicked off with a surprising claim that a British contractor had absconded after pocketing millions of dollars for a road it had not built. Even though clients normally pay contractors when the job is done, the Tanzanian government said it had begun legal action to recover the money.
But the tables were turned a month later when it emerged that another foreign construction company had managed to have a $31m Bombardier commercial airliner seized before it could be delivered to Tanzania as part compensation for money Tanzania owed for another road contract. The seizure was revealed by an opposition politician, who was then arrested amid a crackdown on criticism of President Magufuli's government.
• • •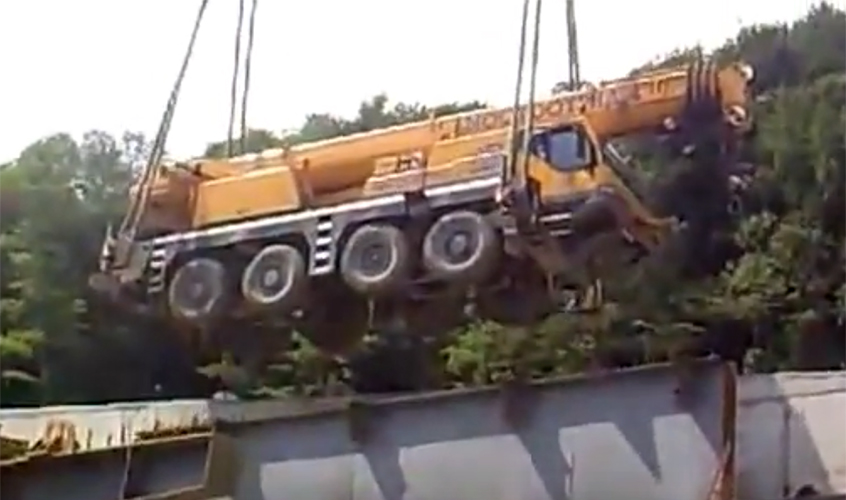 A crane being lowered into position in Sochi (YouTube)
Videos reveal terrifying mishaps on Russian construction sites
29 September – Two videos of accidents on construction sites in the Russian resort of Sochi surfaced in September, reminding readers again of how close disaster can be. A location for next year's World Cup finals, Sochi is one of Russia's most active construction areas.
One video shows a crane tumbling into a pit, while in the second, a mobile crane being lowered from a larger crane snaps its cables and crashes to the ground. Elsewhere, in China in November, a driver narrowly escaped death when his overloaded concrete-mixing truck suddenly tipped and toppled into a foundation pit (top image).
• • •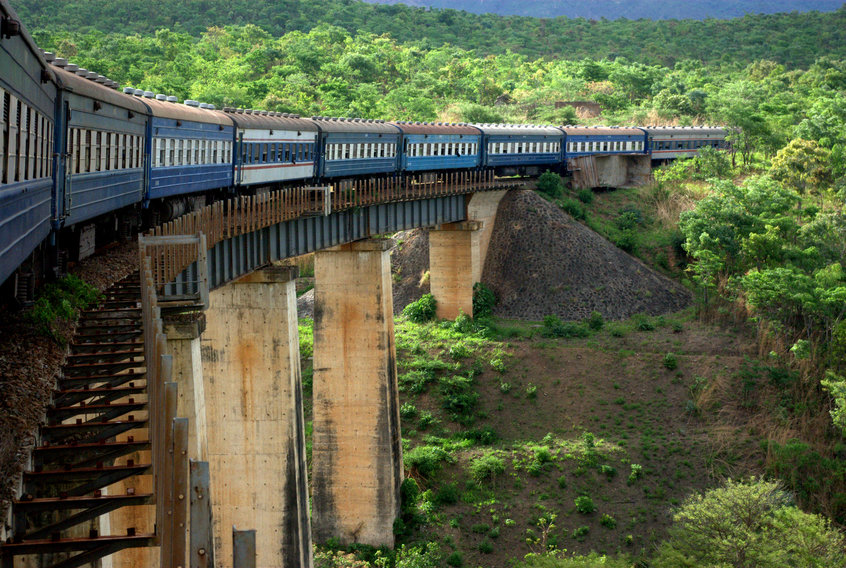 The Tazara line (Richard Stupart/Wikimedia Commons)
Turkish contractor Yapı Merkezi wins $1.9bn Tanzanian rail link
2 October – This article reported on Tanzania awarding the second phase of its strategic medium-speed rail network to Turkey's Yapı Merkezi. The line will run 422km between the city of Morogoro and to the outskirts of Dodoma. Many sub-Saharan African countries have ambitious infrastructure plans, usually underwritten by China, and Tanzania has been more eager than many in pursuing them.
However, after a period of backroom manoeuvring with China over delays to a number of multi-billion dollar agreements, Tanzania's bullish President John Magufuli cancelled them and began courting Turkey, leading to a rare example of a major African infrastructure scheme being carried out by contractors from a country other than China.
• • •
The airport link (BrisConnections)
Arup in $1.6bn lawsuit over traffic forecasts for Brisbane toll PPP
4 October – With litigants claiming it had wildly overestimated traffic forecasts, UK consulting engineer Arup was sued for US$1.6bn following the collapse of a public-private partnership scheme to build a toll road in northern Brisbane, Australia which was completed in July 2012. The company set up to operate the scheme went into receivership in 2013 with debts of more than $2.4bn. In November GCR reported that Arup had settled out of court for an undisclosed sum.
• • •
Architect's interior render of the five-star hotel planned near Heathrow (Foster + Partners)
£3.6m ruling against Foster + Partners for hotel too expensive to build
20 October – In a highly unusual turn of events, the famous UK architect Foster + Partners was facing a £3.6m bill after a High Court judge found it had designed a five-star hotel near Heathrow Airport that would have cost its developer more than twice the original budget.
After an 11-day trial the judge ruled in favour of Riva Properties Ltd, which alleged they'd been left with a sophisticated design that would cost £195m to build when their budget had been £70m. The developer's lawyer said the victory was a warning that architects "cannot design in a vacuum". Foster + Partners said it was "shocked and disappointed" by the decision, but that it would "see what lessons or actions should be taken".
• • •
Image courtesy of Manta5
Hydrofoil bike lets riders "cycle on water"
27 October – Readers' imaginations were sparked by this story about a New-Zealand firm creating an electric bicycle for riding on lakes, rivers and the ocean. Pedal-power propellers push Manta5's Hydrofoiler XE-1, which the company says can achieve lift with two carbon fibre hydrofoils that act like the wings of an aircraft.
• • •
Construction output decreased by 0.7% during the third quarter of 2017 (July – September), following a fall of 0.5% from April to June, the ONS revealed (ONS)
UK construction enters recession amid warning of "biggest financial crisis in 30 years"
30 October – The UK construction industry was deemed officially in recession in October, having contracted for the second quarter in row, according to the Office of National Statistics. Output decreased by 0.7% during the third quarter of 2017 (July – September), following a fall of 0.5% from April to June.
The data was released amid Brexit jitters, and also as the head of an influential construction supply chain body warned of the "biggest financial crisis in 30 years" as subcontractors face possible non-payment by struggling major contractors such as Carillion and Interserve.
However, the government's forward-looking order figures in December suggested the gloom would soon lift as they soared by a record 37% in the third quarter, driven by main contract awards for the UK's high-speed rail scheme, HS2.
• • •
GCR wishes readers a safe, peaceful and prosperous 2018.
Top image: In China a driver narrowly escaped death when his overloaded concrete-mixing truck suddenly tipped and toppled into a foundation pit