13 May 2014
A new public space in Abu Dhabi will reject the trend of unsustainably mimicking European parks and will instead draw inspiration from the desert itself to provide comfort.
A 20-m-high dome of interlocking plates will extensively shade the softly-lit space underneath so citizens can chill without the need for mechanical chillers.
Native plants and vegetables will grow without the need for tonnes of fresh water the city doesn't have.
Spread over 125,000 square metres, the new Al Fayah Park will be located on Airport Road in the UAE capital, Abu Dhabi.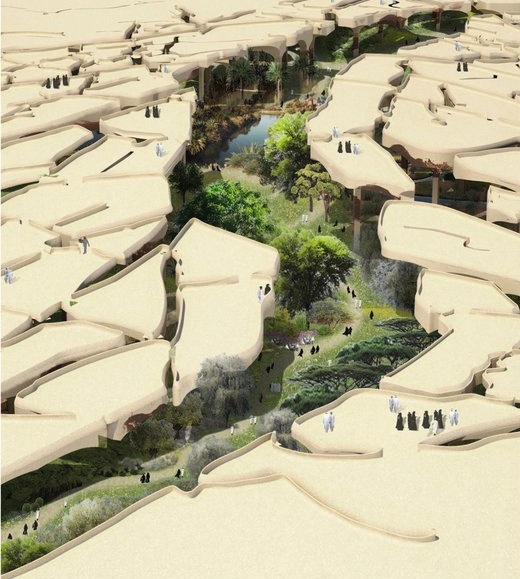 A 20-m-high dome of interlocking plates will extensively shade the softly-lit space underneath (Heatherwick Studio)
The design is the work of London's Heatherwick Studio, which also designed the popular UK Pavilion at the Shanghai World Expo in 2010 and the Olympic Cauldron for the London 2012 Olympic Games.
When the Salama bint Hamdan Al Nahyan Foundation selected Heatherwick to re-work an existing public space there, founder Thomas Heatherwick wanted the design to work with the realities of the place in a sustainable way.
"To us, the idea of taking a European-style park, unrolling that on to the desert like a piece of turf and then watering the hell out of it felt somewhat at odds with the local context," Heatherwick said in an interview with UAE newspaper, The National.
"People can be separated from each other quite easily in Abu Dhabi and often the only places that brings people together are shopping malls," he said.
(Heatherwick Studio)
"The park is an opportunity to reconsider a leisure space that isn't trying to sell you something and that isn't overtly trying to teach you something. We're interested in creating a space that will simply let you be."
The idea developed as a way of celebrating the beauty of the desert and its distinct landscape, without relying on water produced industrially by energy-intensive desalination.
"Instead of denying the presence of the desert that the city is built on, we set ourselves the task of making a park out of the desert itself," Heatherwick Studio says.
(Heatherwick Studio)
Once finished, the park will supply fresh fruits and vegetables to local cafes and restaurants. It will also include a cinema, play areas, paths and streams, and will showcase plants native to the Gulf region.
In the evening when it's cooler, people will be able to wander around on the elevated plates.
Construction is expected to begin by the end of the year and will be complete in 2017.