A non-profit group working on a data-driven modelling tool to help entire city regions develop sustainable, circular economies – and to attract international investment in the process – has launched a crowd-funding campaign.
The Ecological Sequestration Trust (TEST) says it will give the world region that donates the most per capita a first crack at using the free, open-source software for its own development.
The "Human Ecosystem Model", believed to be the first of its kind, will attempt a completely holistic view of development, taking into account economics, human needs and the Earth's natural systems to help city-region planners understand the total implications of economic and infrastructure interventions.
Being developed now by experts from Imperial College London and the Zurich-based Institute for Integrated Economic Research (IIER), the model is expected to be ready for testing next year.
Separately, TEST is in talks with business and city leaders in five regions around the world about using the model for demonstration projects. The regions include Accra in Ghana, the UK county of Dorset, two regions in Mongolia, one in China and one in Brazil. 
They don't know what to do
TEST was founded by Peter Head OBE, an engineer who in 2011 took early retirement from his role as head of planning at global multidisciplinary firm, Arup, in order to pioneer new, low-carbon and circular development models.
In an interview with GCR he said the world economy needs urgent transformation if people's lives are to improve while avoiding disaster caused by climate change. The need is most obvious in the developing world, he said. "At the moment Accra is in some difficulty, with vast slum areas with very little sanitation," he said.
Slum neighbourhood in Accra, Ghana (CitiesAlliance.org)
"Over 90% of human waste goes into the environment. You've got a terrible situation, a lot of pollution, a lot of rubbish all over the place, very poor transportation. 
"And they just don't have any way of tackling it that is coherent and inclusive. They don't know what to do, how to reorganise their taxes, how to attract international investment into a coherent solution that provides people with a much better quality of life. 
"So what we are providing is a coherent set of tools to prioritise decision making, how to attract capital, how to integrate water and waste management, transport, renewable energy and so on, a practical plan to move forward."Â 
Take it into their own hands
Last month TEST held a workshop in Ghana attended by 78 influential people, including the chief of staff of the Ghanaian president's office, vice ministers, mayors of city regions, tribal leaders, university experts on data and global information systems, community and business representatives. 
"It was a very broad mix," he said. "We try and bring everyone together and create a collaborative feeling."
Head believes that even a huge city like Accra can begin to organise its affairs in a sustainable way. "That's very definitely what we think is possible with this type of platform, and to attract capital in a way that would enable them to move forward quite coherently, and begin to take their own decisions," he said.
"The trouble with a lot of developing countries is that you've got aid agencies suggesting all sorts of things that can be done – a project here, a project there – but there's no coherence about it, no overall plan.
Peter Head took early retirement from his role as head of planning at Arup to pioneer low-carbon and circular development models
"They're a bit anxious and fed up with that approach. They'd like to take it into their own hands, but they don't have the knowledge and skills to do that. They're all thinking about the role of data but they don't know how to move that into a decision-making process."Â 
Policy cockpit
This is where the TEST platform comes in. The objective is to create an agent-based model for entire economies by bringing together existing tools that model issues like water management and electricity supply, and also tools available now that aggregate economic or environmental change. 
The idea is to provide a "policy cockpit" to compare interventions in the human ecosystem, and their consequences.
"It's not a black box that spits out answers," Head said. "It's to enable sets of professional people who may design roads or railways or water systems to collaborate together to see the broader impact. 
"So it's actually lifting human intelligence to another level through collaborative intelligence, which should help us find all sorts of solutions that are less stressful on the planet than we have at the moment."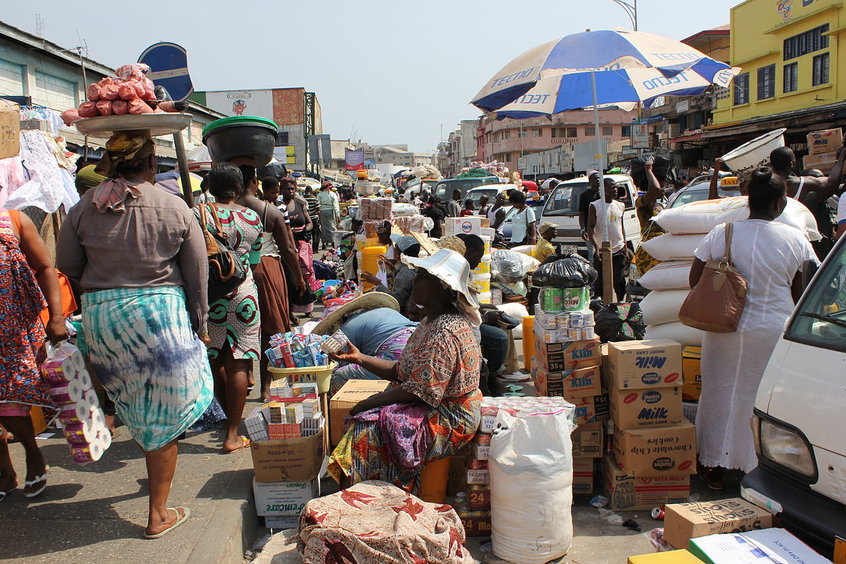 Street outside Makola Market, Accra, Ghana (Benggriff/Wikimedia Commons)
Last year TEST joined forces with the International Centre for Earth Simulation to link its region-based model to a global one.
Head believes the approach will help unlock international finance for development schemes because the schemes, being sustainable in the broadest sense, will promote more resilience in the regions and, therefore, less risk.
"There is a wall of money there now looking for somewhere to flow," he said. "Institutional investors and pension funds are looking for longer returns and less risk. Stock markets, property, fossil fuels have proven riskier than assumed. At the moment that's the big preoccupation, they're looking to de-risk their portfolios, and resilient city development is attractive."
To learn more about TEST and its crowd-funding campaign, click here.