Land along the banks of the Polcevera River in Genoa, which saw tragedy last year with the collapse of the Morandi Bridge, will be turned into specialist gardens and parkland, and be given a vast circular walkway, as part of efforts to revitalise the former industrial area.
The Polcevera Park and The Red Circle walkway is an urban project designed by Italian firm Stefano Boeri Architetti, urban planner Metrogramma Milano and Dutch landscape designer Inside Outside.
It will take shape under the Renzo Piano-designed new bridge being built now at speed by Salini Impregilo and Fincantieri Infrastructure. 
The Red Steel Circle will be 1570m long, 6m wide viaduct over the river and park with a 250m radius, and a 120m tall wind tower at its edge. It will have bike and pedestrian paths, and smart mobility lanes.
Underneath it, the Polcevera Park will contain gardens and wild spaces with varying ecologies.
Gardens will be arranged in a strip formation, with widths ranging from 7m to 20m, with other spaces dedicated to sports, collecting flowers and fruits, and animal welfare.
A zig-zagging path will run between the project's east and west perpendicular to the linear gardens, and connecting to the Red Circle.
An art piece called "Genova in the wood" will be located in the centre of the park, and will contain 43 trees, each representing a victim of the Morandi bridge collapse.
Inside Outside worked with landscape designer Laura Gatti and geologist Secondo Antonio Accotto on the park design.
Clusters of industrial buildings will be based at the edges of the park.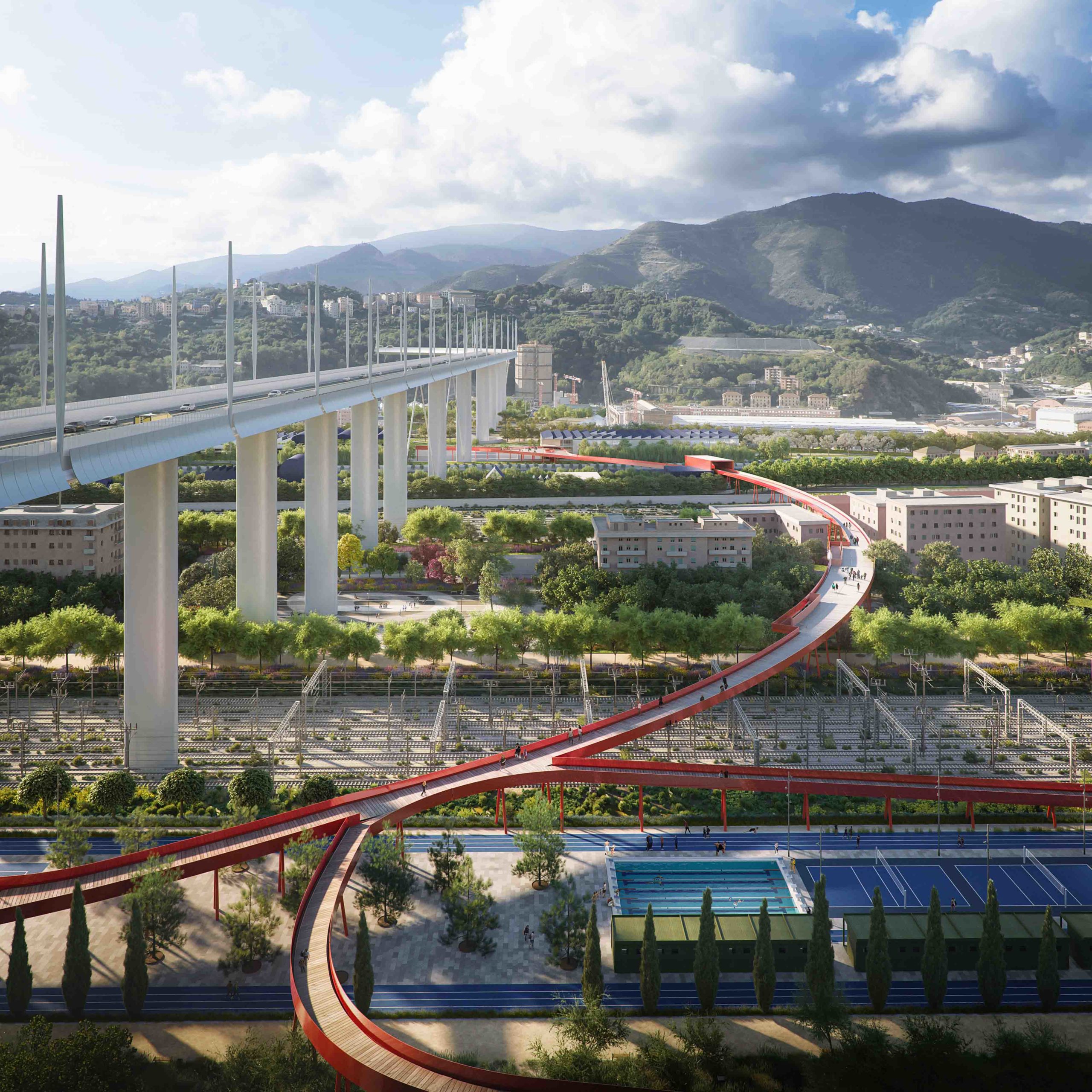 Stefano Boeri, says: "A Red Steel Circle. A ring that embraces – passing under the new bridge – an area made of iron, water, cement and asphalt.
"The Red Circle symbolising the powerful local tradition of blast furnaces, cranes, and overhead cranes, runs along the locations where the tragedy of 14 August 2018 occurred.
"It embraces them without separating them from their context, linking them together, […] joining the separate sections through bike/pedestrian path and distributing the renewable energy generated by the solar collectors – thermal and photovoltaic – located on the roofs of the buildings, by the Wind Tower and by the piezoelectric flooring (which symbolically contribute to the energy balance) converting into energy the traffic flows that run through the new Bridge and the Circle. Energy and movement that flow into the Wind Tower."
Images courtesy of Stefano Boeri Architetti/Metrogramma Milano/Inside Outside