A new study sheds fascinating light into just how much heat workers can handle before their health is threatened.
In Dayton, Ohio a local roofing company is fighting allegations of safety violations after a 60-year-old temporary worker died from heat stroke.
And in Queensland, Australia, engineer Fluor faces a union backlash after a 38-year-old man working on a liquified natural gas facility died of a heart attack. Authorities are investigating heat stroke as a possible factor.
As the mercury creeps up in construction markets the world over, the issue of heat stress among workers makes its regular return.
But now a new study sheds fascinating light into just how much heat workers can handle before their safety and health are threatened.
Researchers from Hong Kong Polytechnic University monitored the physical conditions of 19 steel rebar workers during a steamy Hong Kong summer to try to build a more accurate picture of their tolerance to heat.
They selected steel rebar benders and fixers because their work is hard and often in the direct sunlight.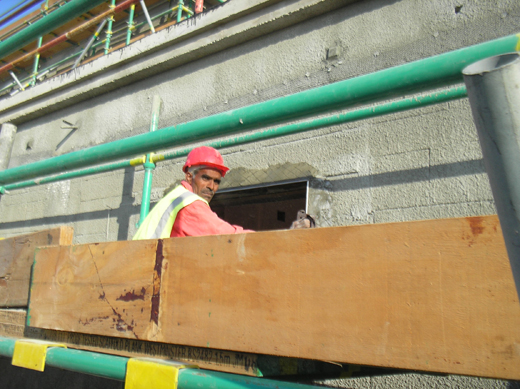 A 25-year-old can work in 31°C for 119 minutes, nearly triple the tolerance time for a 55-year-old (Credit: Rod Sweet)
The men were asked to work until they were exhausted and then rest, while researchers gathered physiological data and measured recovery time.
The results showed a wide variation in workers' tolerance depending on their age, body fat and whether they smoked and drank alcohol.
Alcohol consumption emerged as the most important factor.
The research suggested that a 25-year-old who smokes, and drinks occasionally, can work in 31 deg C for 119 minutes before his health is threatened.
That's nearly triple the time a 55-year-old with similar habits can safely work.
Such a wide variation suggests that a strict, one-size-fits-all approach to breaks in hot conditions could leave some workers in the safety danger zone.
The study found that on average a rebar worker could achieve 58% recovery with five minutes' rest, 78% in 15 minutes and 92% in 30 minutes, meaning that the rate of recovery slows with increased break time.
The research team, led by Professor Albert Chan, recommended that more frequent breaks should be introduced in hot weather, that workers should avoid alcohol on a working day, and workers and supervisors should be better educated about the signs of heat stress.
The study, "From Heat Tolerance Time to Optimal Recovery Time: A Heat Stress Model for Construction Rebar Workers in Hong Kong", was highly commended in the CIOB's Innovation and Research Awards last year.