Work on a year-long New York metro tunnel project has been completed three months ahead of schedule, and $100m under its $500m budget, while avoiding a complete shutdown of the service.
Academics from Cornell University and Columbia University were called in to advise on the work which took place to repair damage to the L Line caused by Superstorm Sandy. The team found a way to carry out the work without fully shutting down the subway, which runs between Brooklyn and Manhattan and carries some 250,000 passengers a day.
Andrew Cuomo, New York's governor, said: "Everyone said we had to shut down the tunnel for 15-to-18 months, which was going to be a massive disruption for thousands of New Yorkers who rely on the L train.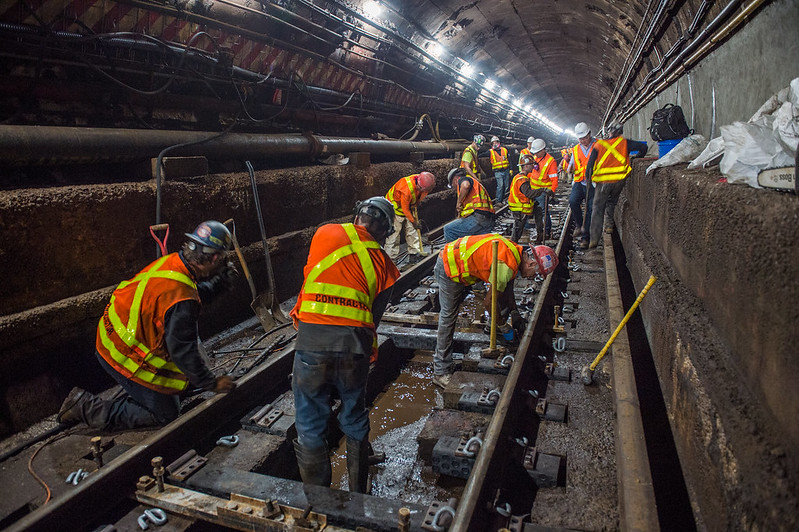 "We challenged those who said there was no alternative solution and as a result today the MTA is delivering a more resilient tunnel with improved service that is ahead of schedule and under budget, all while averting a shutdown."
In January 2019, Governor Cuomo convened academics – including the deans of the Cornell University and Columbia University engineering schools – to review the two L tubes and determine if the work could be completed more efficiently. 
After reviewing the scheme, the academic team recommended new construction methods and technology used in transit systems around the world but never integrated in a similar project in the US, the governor's office said.
Health and safety measures were implemented during the works to stop the spread of Covid-19. These included the launch of a daily reporting app, the disinfection of surfaces, closing common areas and a ban on sharing tools.
Watch a "Virtual First Ride" on the L Train here:
 
Images courtesy of the Metropolitan Transportation Authority