25 February 2014
As the UK bails itself out amid the wettest winter ever since records began in 1910, construction has started on the country's first amphibious house.
It will rest on the ground on fixed foundations and when a flood occurs, the entire building rises up in its dock and floats like Noah's Ark. 
The modern 225-sq-m house – set just 10m from the edge of the River Thames in Marlow, Buckinghamshire – replaces a dilapidated bungalow with a home designed to respond to the uncertainties of climate change.
It has been designed to cope with up to 2.5m – more than eight feet – of floodwater, well above projected future flood levels.
The designers – Baca Architects, specialists in flood-resilient architecture – say the building is breakthrough in the British search for a solution to mitigate the risk of water damage to homes in flood-prone areas.
Artist's rendering of the house under construction on an island in the Thames at Marlow (Baca Architects)
Nearly 6,000 UK homes and businesses have flooded since December 2013, according to the UK's Environment Agency, while the summer floods of 2007 saw more that 48,000 homes and nearly 7,000 businesses damaged in flooding.
In Marlow the upper part of the house is a lightweight timber construction that rests on a concrete hull, set between four permanent vertical guideposts to keep it in place as it rises on the tide.
Baca Architects sought advice from the UK's Environment Agency on the construction model.
"The planning process obviously took a bit more time than some applications, involving our team in extensive consultations and cooperation with the local authority," said Baca director Richard Coutts.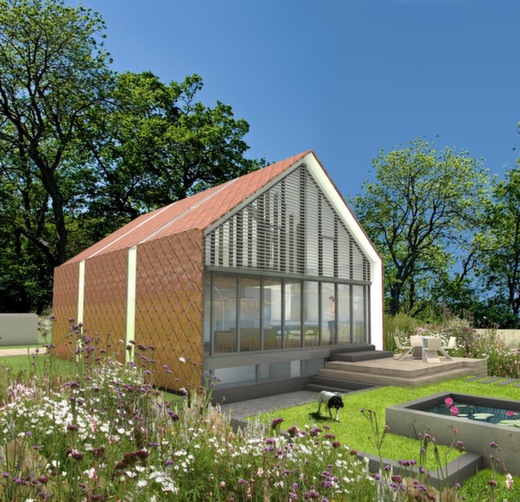 The house is a lightweight timber construction that rests on a concrete hull, set between four permanent vertical guideposts (Baca Architects)
The company says that building an amphibious home currently costs 20% to 25% more than a similar sized conventional house, but added: "It's a price many flood victims might well view as small change for the peace of mind it affords".
Floating construction is tried and tested in the marine industry but its application in architecture is relatively new.
The DuraVermeer Group constructed the first generation of the dwelling in Maasbommel in the Netherlands in 2005, consisting of a 32 amphibious dwellings (and 14 floating homes) built on the side of a dyke using floating bases that were anchored to mooring posts.
Stepped garden levels absorb floodwaters first, and help divert run-off from the house as they subside (Baca Architects)
Designed to accommodate a water level difference of up to 5.5m, the properties successfully performed as designed in the Dutch floods of February 2011.
Baca collaborated with DuraVeermer Group in 2008 for their competition-winning flood proof pilot in Dordrecht for 160 new homes that consisted of the second generation of amphibious homes, in which larger buildings could be designed using an inhabited hull – the basis of which has formed the template for the Marlow house.
This form of construction is one of several technologies that Baca Architects are using to resolve flood risk sites in a number of areas in the UK and the Netherlands.
The house is designed to cope with up to 2.5m – more than eight feet – of floodwater (Baca Architects)
While amphibious construction to date has only been used in small buildings, Baca believes it has the potential to overcome flood risk on a much larger scale by creating whole floating platforms.
In 2009, Baca Architects won, by invitation, international competition to design a flood proof pilot scheme in Dordrecht, Holland. The concept for the pilot project is to create a flood-proof development of 200 homes that work with water rather than defend against it. The project consisted of floating, flood resilient and amphibious homes.