A consortium involving Belgian contractor Besix and Italy's Rizzani de Eccher has been selected by the Norwegian road authority, Nye Veier (New Roads), to build a 1.3-km-long bridge to carry a four-lane motorway over Lake Mjøsa.
Uniquely, the bridge involves "extensive use of wood" as well as traditional concrete.
Nye Veier said using wood in a "grid support solution" will cut the weight of the superstructure by 17% compared to an all-concrete bridge. 
It will also reduce the scope of the bridge's foundation, thus further cutting CO2 emissions and cost.
The wooden motorway bridge was proposed by the consortium, which also includes Norwegian contractor AF Gruppen, the designer and consultant Multiconsult, and architect Knut Selberg.
As well as the bridge, the consortium will build an 11-km section of motorway to make up part of Nye Veier's E6 Moelv-Roterud link.
The consortium's bridge-and-road contract is priced at $272.4m (2.55 billion NOK).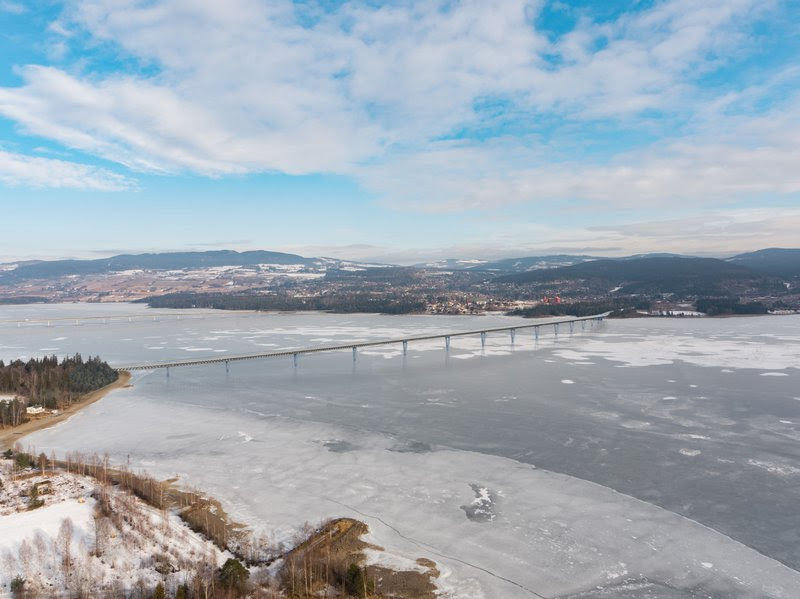 The bridge bridge will carry a four-lane motorway over part of Lake Mjøsa (Courtesy of Besix)
"It is incredibly nice for the Inland that the motorway bridge that will tie the county together is both forward-looking and modern," said Øyvind Moshagen, Nye Veier's development director.
"With the use of wood in a unique and new collaborative structure with concrete, the bridge will have a low carbon footprint," he added.
Norway's transport minister Knut Arild Hareide said the concept "may be important for future development projects in transport".
Besix said the bridge would be "a major landmark for the region".
Nye Veier picked the proposal on 3 June following an international tender. The parties are now drawing up a contract, with work possibly starting in August.

Top image: Using wood will cut the weight of the superstructure by 17% compared to an all-concrete bridge (Courtesy of Besix)