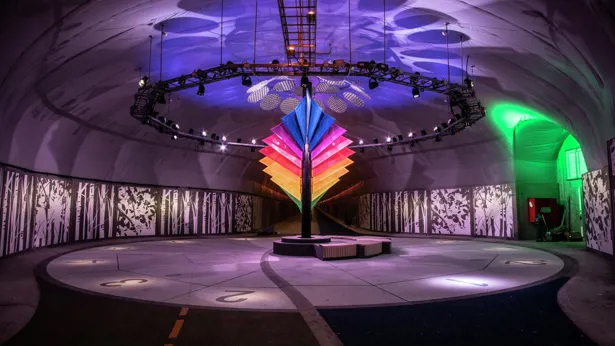 The Norwegian city of Bergen is shortly to open the world's longest tunnel for cyclists and pedestrians.
The 3km-long heated tunnel cuts through the mountain that divides the residential area of Fyllingsdalen from the centre of the south-west Norwegian municipality. Next month, when the route opens, it will take 10 minutes to cycle, slashing a typical 40-minute journey to 25 minutes.
The opening ceremony will take the form of a cycle parade through the tunnel to the city centre.
The Fyllingsdalstunnelen website notes that it was built with safety and comfort in mind. "The tunnel is well-lit with colourful lighting fixtures, and its walls are beautifully decorated. There are also security cameras and an emergency phone every 244m. And if you're worried about continuously walking for 45 minutes, there are rest stops inside the tunnel."
The project was originally meant to serve as part of a light rail system.
Project manager Arild Tveit told Euronews: "Basically, it is an escape tunnel for the tram. But then there were wise minds who said that it is possible to cycle through this tunnel as well. By creating a walkway here, it is also possible to exercise… So it is public health in every metre."
Construction was funded by Bergen's state-supported Miljøløftet ('Environmental Promise'), which hopes it will cut vehicle use and reduce emissions.